Best Hosting for Amazon Affiliate 2021 | Personal Experience
Best Hosting for Amazon Affiliate 2021!
So, You are thinking of starting an Amazon affiliate website in 2020 and you need a hosting guide for the Amazon affiliate.
Right!
You are at the right place, because I will tell you which is the best hosting for Amazon affiliate and also I will tell you which hosting I am using for my own Amazon affiliate website.
so,
I am already using hosting so I will give you a genuine and honest review.
Today there are many different hosting companies available in the market.
But,
Which one is best for affiliate marketing and specially for Amazon affiliate? Don't worry I will tell you which one is best for you if you are starting an Amazon affiliate website.
So 
Before starting the discussion about best hosting I want to clear some basic questions/points about hosting which are so necessary and if you consider these important points. 
You will get an awesome hosting experience.
What are the points that need to be considered before buying a hosting?
Let's start,
So what is actually hosting?
Hosting is like a space where we can host our website data, so a website will shows live to our audience. Now these are some points you need to consider before buying hosting.
Support.
Friends, this list is my first priority. Because without support you can not manage your website especially, if you are a beginner.
As I told you I am also running an Amazon affiliate website, so, whenever I have found any problem I will contact my support and they solve my problem immediately. If they don't solve my problem I cannot solve that.
So,
It is a very  important point  to consider before buying any hosting.
Which type of support we need?
We need both types of support, live chat support and email support because  sometime our website goes down or something else then we need to contact our hosting on an urgent basis and it is only possible on live chat support. 
So we need both types of support live chat and email support.
Website Uptime.
Uptime is another important point,  need to be considered because if you are not tracked your website on Google and It will appear don't for any reason then,
it's not good.
And  Google will also de-rank your website and in this way your website will go down and it is very difficult to rank a website again on a previous position. 
I am not saying, it is  impossible, I am just saying, it is difficult to rank a website again.
Hosting price.
Price is another important point we need to consider before starting Amazon affiliate websites.  Because every person has a different budget.
 so, 
Many people are looking for hosting according to their budget, and there is good news that in this list I have also added some budget websites.
So if you can go for that website you can save your money and if you have a good budget you can go for another website see the list.
Now lets talk about which is the best hosting to start an Amazon affiliate?
Bluehost hosting.
In the hosting list for Amazon affiliate, bluehost hosting is my 1 recommendation because.
After research I found that bluehost hosting is awesome for a newbie,  They are also providing  best speed Optimization and awesome support.
They will also support you in any type of help in live chat so you can definitely go for bluehost. Bluehost is so reasonable according to his price and budget and also they are providing awesome support.
You can also go for it. Bluehost my 1 recommendation.
Hostgator hosting: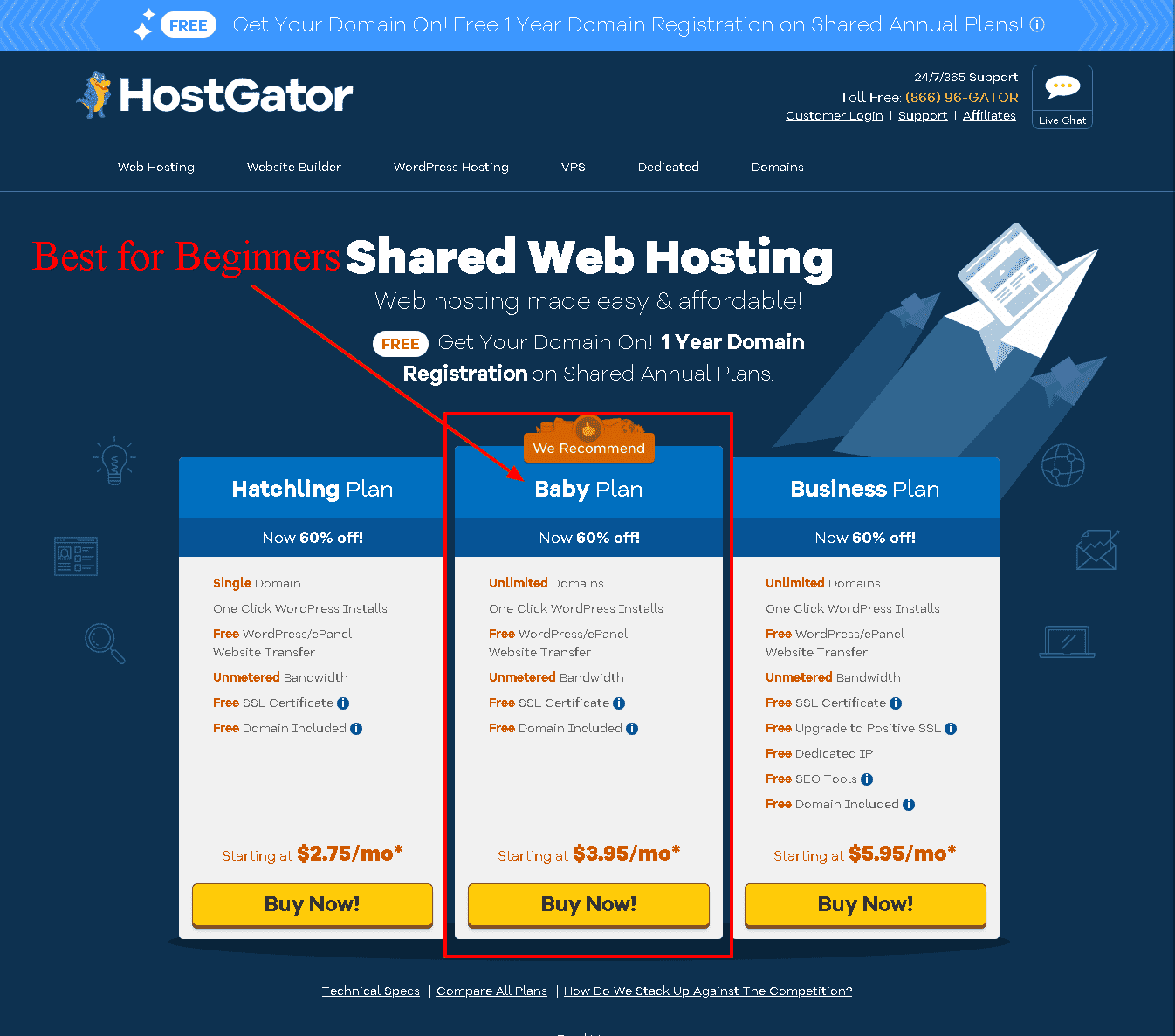 My second recommendation for you if you didn't like bluehost for any reason. Then you can go to the hostgator.
Hostgator is another good choice for Amazon affiliate because they are also providing awesome live chat support along with Email support.
And they are also included all basic feature like support, website speed Optimization, website uptime and more so you can also go for hostgator.
Hostgator is another best hosting company which has a decent reputation in the market  so,  you can also go for a hostgator hosting Amazon affiliate.
Namecheap.
Namecheap is best for those people who have some tight budget or are looking for the best hosting for Amazon affiliate.
Because in the above two hostings, you will get a huge discount but you must buy their hosting for at least three years,
but in namecheap you can also buy their hosting for 1 year.
So,
Namecheap hosting is also a good hosting company for Amazon affiliates and for those people who have some tight budget.
Let's talk about which hosting I am using for my own Amazon affiliate website?

This is a DISCOUNT LINK SO YOU WANT TO BUY.
CLICK HERE FOR DISCOUNT!
Friends I am using namecheap.
Yes,
You heard right I am using the cheap hosting. I am using it for my own Amazon affiliate website and there are some reasons behind it.
 When I started my online journey my budget was too low,
I have found namecheap is the best option for me and I am also giving you bonus tips here.
It will help you in your life.
Friends As I told you that my budget is low so I am looking for some good hosting in a tight budget and this was the time of December 2019, when Black Friday sale started. 
I also have got a huge discount on hosting and in this way I have saved my money a lot. You can also try it but I don't know when you are reading this article.
So you can check this according to your requirement.
2. Chrome extension.
The second bonus tip is this chrome extension which is called Honey.
Friends Honey is the chrome extension which automatically applies discounts coupons if available in our  purchase tab. 
So we don't need to go and find the best coupon for our website because it will automatically apply.
It is totally free you can install in your chrome browser just in one click from here honey.
Let's talk about some more good features of Namecheap hosting.
Whenever I have found any problem there, live chat support obviously helps me a lot and saves my time and money.
Sometimes,
We have a small problem and we don't know how to solve it?
So, we need to hire someone to solve our problem but sometimes hosting companies solve that problem free of cost.  I am very satisfied with their hosting support. You can go for a Namecheap if you have a tight budget.
My final conclusion on: Best for hosting for Amazon affiliate.
All these hosting companies are the leading hosting companies in the world.
So don't get confused or panic about them and you can go for any of the above.
But my recommendation is 
Friends. If you have some good budget and you want to start Amazon affiliate marketing in a serious way,  then you can go for siteground hosting or bluehost.
I want to know about my opinion if you lekker man that you can go to any of them. Like me,
If you have a tight budget you can go for a namecheap and you can also get some bonus as I  told you previously in the upper part of the article.
Now the choice is yours that how you can go for it.
Don't want to pay monthly for social media scheduling tool. ok. get this for lifetime.
Thanks for reading my article. If you have any questions related to Amazon affiliate or anything else you can ask in the comment box I will definitely answer you.