So you are thinking to buy a monthly subscription to Creative Fabrica up but you want an honest review before subscribing to creative fabrica. So here is the creative Fabrica Review.
Well,
you are at the right place because I am again here (my website name) and also going to give you my honest opinion along with a bonus tip at how I can get their monthly subscription of $29 per month
of just the price of $10 per month and the discounted prices valid forever mean for a lifetime!
I am going to giving you my honest review after subscribing to creative fabrica and also I have used their support center for some problems and I am going to also share with you that experience.
Creative Fabrica subscription Review!
So,
stick with this article at the end and you will you be getting all your question related to creating a fabrica because I am going to answer almost all the major questions related to creative Fabrica asked by the people.
Now let's dive in.
Creative Fabrica Is an Online Graphic Website Where They Charge a Monthly Fee from People and In Return,
They Are Providing Graphic Stuff to Their Customers Like Craft, Print-On-Demand, Designs, Mockup, Amazon Kdp Interiors,
Coloring Book for Adults, Coloring Book for Kids, Logos, Shape Cloud, Font Cloud, and Different Types of Backgrounds and Some Other More Stuff Related to Graphic Designing.
Bonus for you Use this to get 30% off.  IAMAGAINHERE30
Now,
I hope you understand what is actually a creative fabrica website.
Now let's talk about my opinion and guidance on it.
I have bought their subscription in 2020  because I need some KDP interiors for my Amazon KDP businesses so I subscribe to creative fabrica.
The normal price of Creative fabrica is $29 per month if you want to get full access and there are other two subscription options available.
if you don't want to get full access what you need to d?
I will discuss this later at the end of this article.
So
if a person subscribes to creative fabrica he will have access to full website content.
Like if you buy their monthly full access subscription you are able to download each and everything at any time without any type of limitation.
This is the best part of this website which I like the most means you can download more than 50 files in a day.
yes, you heard right currently there is no limitation but I don't know about the future.
Now,
when you subscribe to creative fabrica you are getting some extra additional benefits like their.
Creative Fabrica font cloud.
and some other tools which are so helpful for any graphic designer.
If you want to know more about shape cloud and font cloud you can watch these videos and you can also visit my YouTube channel I am again here to get more awesome stuff.
Now I am going to answering important questions which were asked by the people.
Creative Fabrica subscription.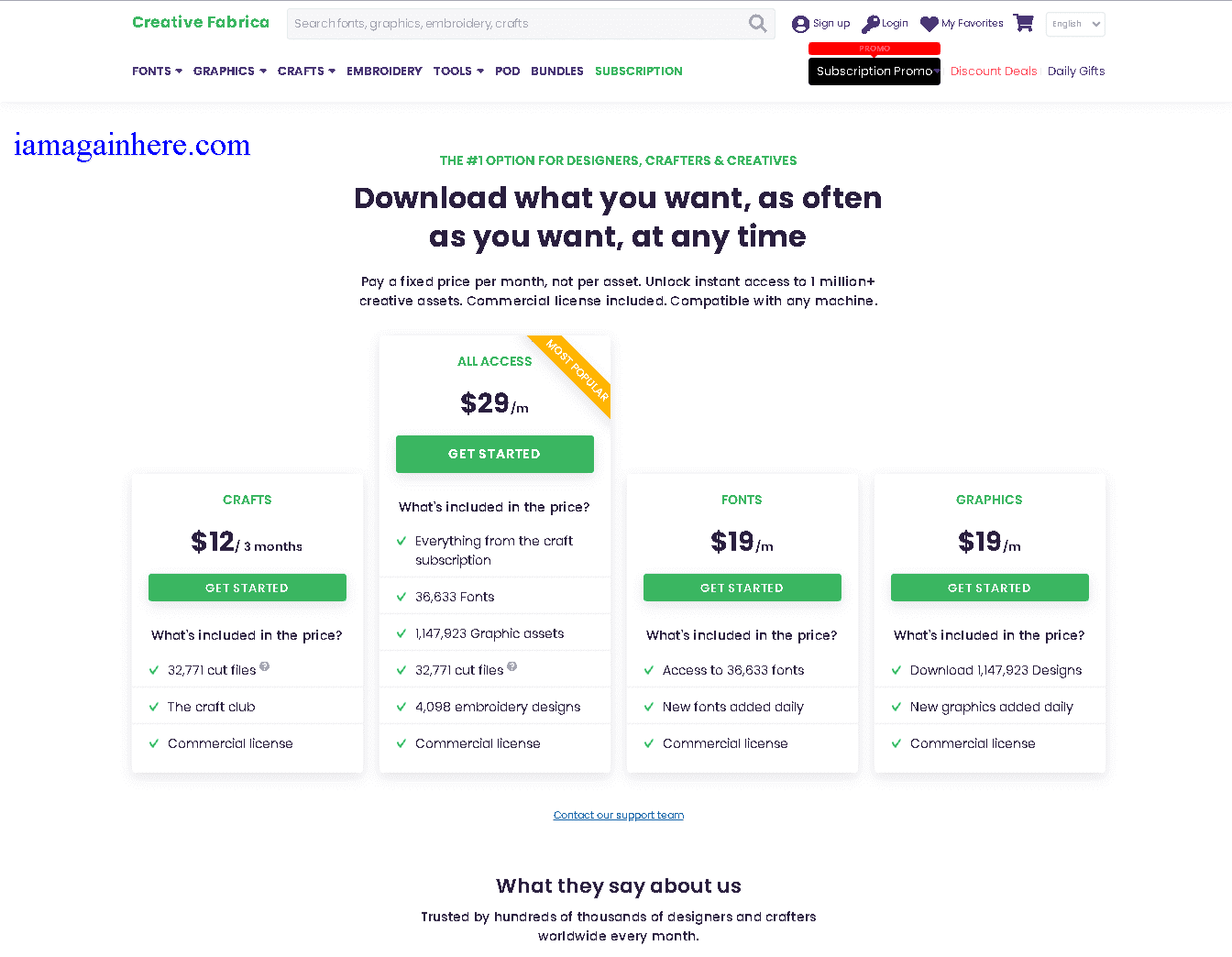 This is the best online tool which is also free.
so you must try it.
Now let's talk about the bonuses of Creative Fabrica.
As a promise to you that I will definitely provide you the bonus tip and the end of this article so here it is.
As I told you the normal price of the Creative Fabrica website is $29 per month if you want full access.
And if you want to get at a particular subscription-like graphics, craft o fonts or something you need to be a separate price, as you can see above in the picture where I talk about price,
But the bonus is that if you buy any of their plans and you can use this coupon code you will be getting 30% off.
Use this to get it. Only Available for 100 people!
creative fabrica coupon code  IAMAGAINHERE30
So Be fast to get it.
The Second way to get a Discount is sometimes they launching their monthly subscription promo code or offer where you can get their $29 per month package just for $9 dollars.
Yes you heard right this is the bonus part you can get a $29 per month package just for $9 but
These types of promos are so Limited like they are ending in just one day or sometimes in some hours.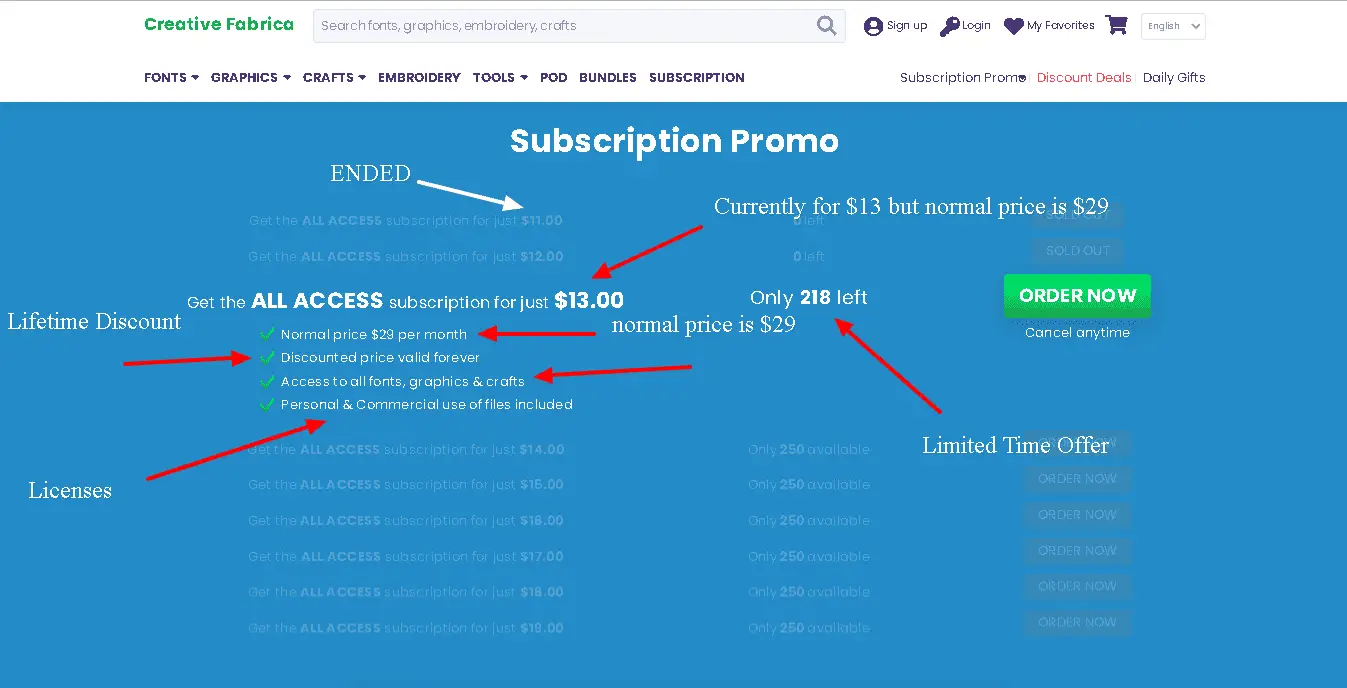 so if you want to get at the perfect time you can subscribe to my newsletter where I will sending outstanding deals discounts, coupons, not only from creative fabrica but from another website to save money and time for my subscribers.
And you can also visit my YouTube channel and subscribe to it because I am also uploading this type of content and discount videos at a too-early time so people can take benefit.
Now let's talk about the conclusion.
Friends in simple words,
I will highly recommend you to go and buy creative fabrica all-access subscription because I don't know any other website which can provide millions of graphic assets in just $9 per month/ 10/11 or something else even $29.
So it is totally worth the price and also we don't have any type of download limitation and something else.
And suppose if you don't like it you also have the option to cancel at any time so you don't need to worry about anything else.
Hope you enjoyed this article thanks.
Creative Fabrica FAQ:
I am a Word Press Designer/developer, Affiliate Marketer, Youtuber, Freelancer, and Blogger.
I Love to Write Articles, Making YouTube Videos, and Providing WordPress Services to Clients. You Can Connect with Me on My Social Media Channels or by Email: Admin@iamagainhere.com
This Is My Passion.