Postoplan Review : Price, Pros and Cons, Discount 2021
Postoplan review.
Social media scheduling is so important in today's world.
And today in this article I am going to giving you my Honest and genuine review Of the Postoplan. app (postoplan review) which is also a social media automation tool.
I have used this website/tool and my review is fully genuine and honest as my user experience is based.
So,
Stick with this article till the end because in this article I will clear all your doubts about postopaln and after reading this article.
Bonus tip for you: if you want to get it for a Lifetime Just by paying a One-time fee check it out.
But this is for a limited time so be fast to get it.
I will assure you that you can decide whether you need to use this website or not.
I will provide you the proper reason why you need to use this and why not and then I will also give you my final words and my opinion about this website.
I will also tell you that when I started using this website and how many posts I have posted on my own social media platform for free using this website.
Postoplan review.
Now let's start the review.
Price:
The price is too low as you can see and I think anyone can afford it.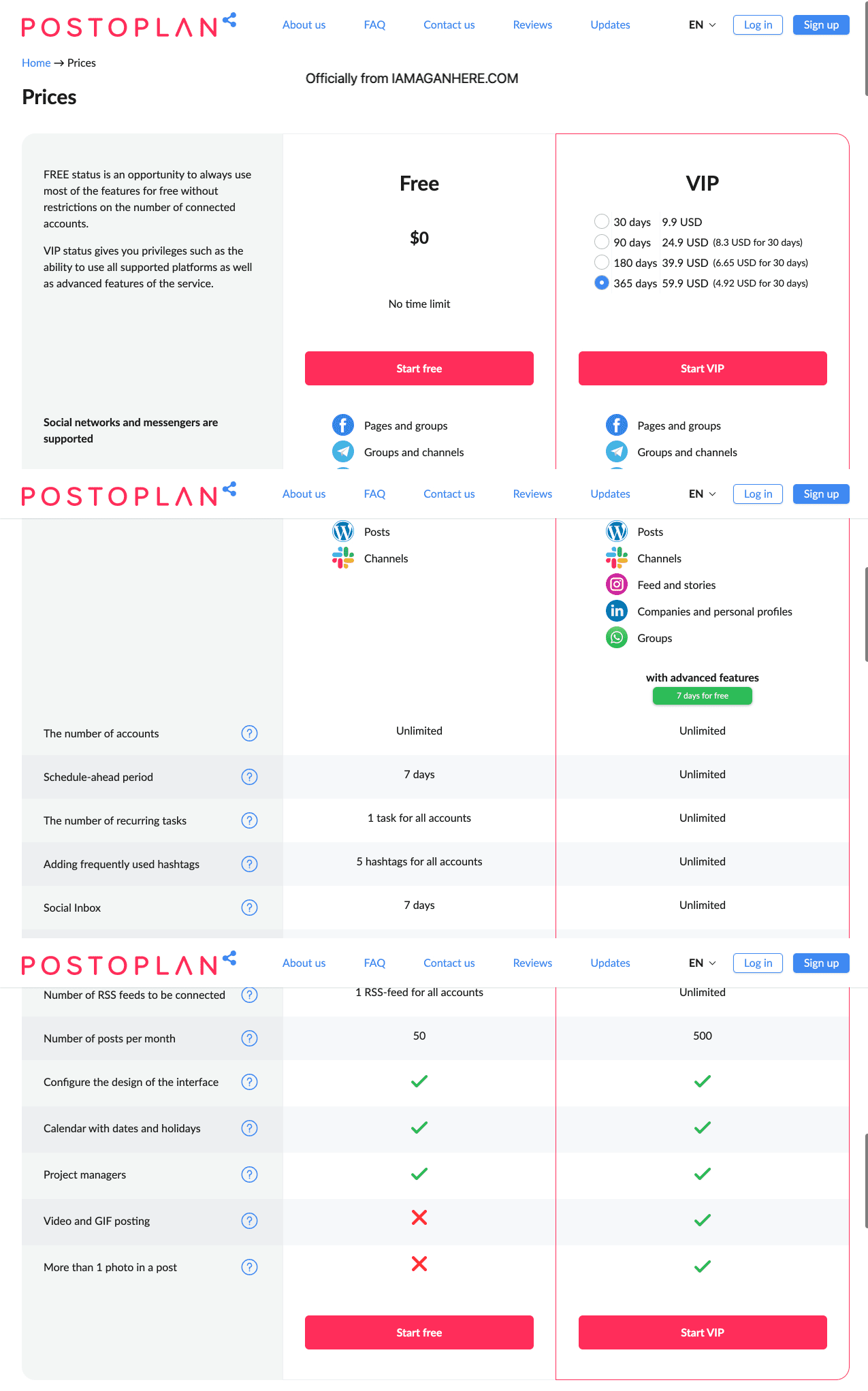 Bulk uploading.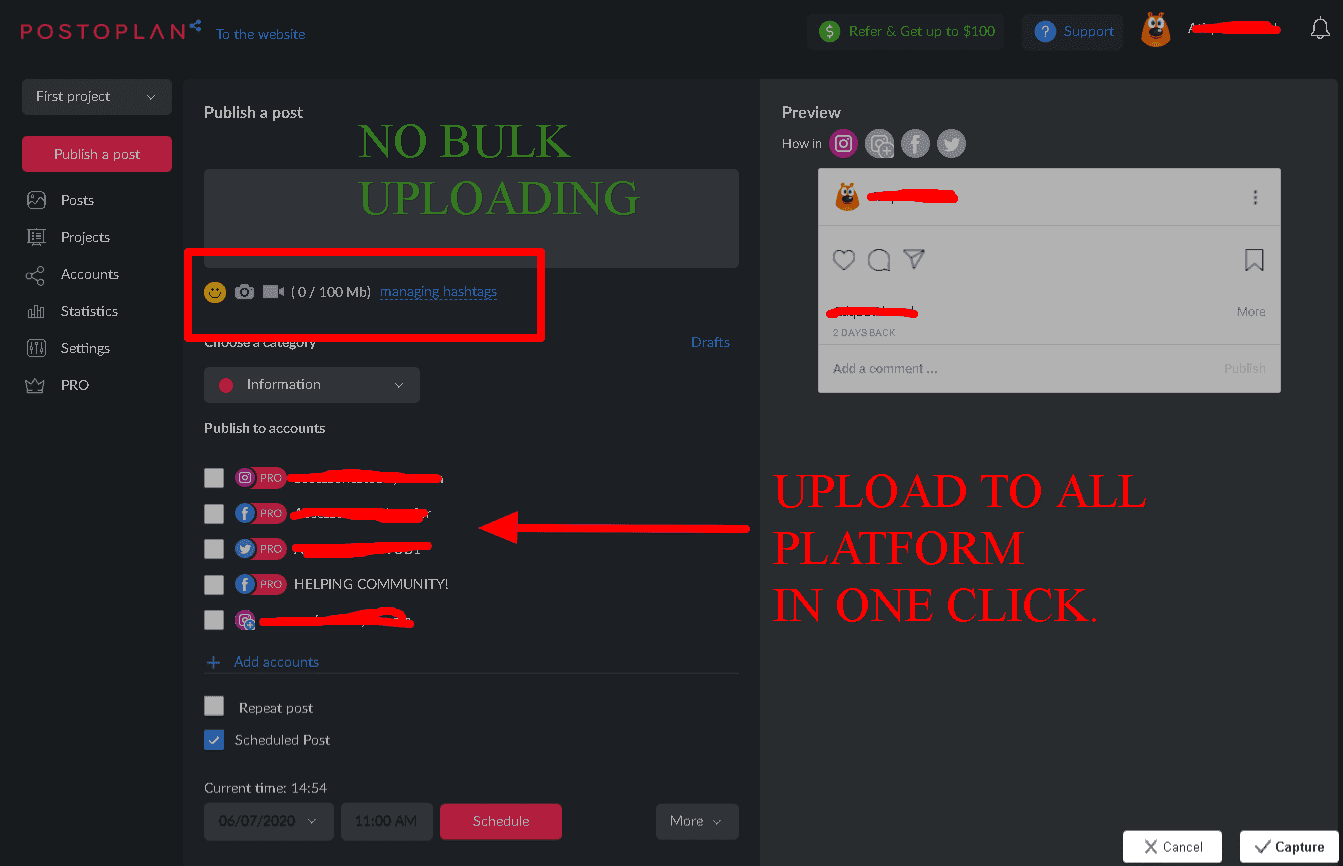 First, we are going to talk about uploading.
Uploading is the most important part of every social media scheduling platform and bulk uploading is the main feature in every social media platform,
But unfortunately, on this website, you cannot upload bulk images with a single click.
It doesn't mean that you cannot schedule your one post to all social media platforms in one click. Yes, you can do it.
But bulk uploading means that how many posts you can upload and schedule them to social media tools just in one click.
So keep in mind that you are unable to upload bulk images but you can upload multiple images for a single post to make slides post.
Scheduling length.
Using this website you can schedule posts for 7 days for free and if you want to schedule more than 7 days, you need to upgrade their plan which I don't recommend you.
But why?
Read This article and You will come to know that why?
Supporting social media platforms.
On this website, you can connect your,
Instagram,
Facebook,
Twitter,
Linked in,
Google my business,
Telegram.
WordPress,
Whatsup,
Slack,
You can check it Here By yourself.
Shortcodes.
Shortcode means you can save your long paragraph, email, phone numbers, and other lengthy notes which you can add in your post just by adding your shortcode instead of typing your lengthy notes again or anything else.
They also give you a facility by which you can save your Instagram hashtags.
So
Once you have saved many Instagram hashtags. And when you won't use them a second time you can easily use them because you have saved them before and
Now you don't need to type them again and again which is also a plus feature.
Post-editing.
It means that when you schedule your post/campaign and when your campaign is live and after that, you are still able to edit your scheduled post anytime.
Instagram story feature.
In this app, you can schedule your post for Instagram feed but you also able to post/schedule directly on your Instagram story which is also a plus feature.
Now let the sum up all pros and cons in a quick list.
Postoplan app pros and cons:
Pros:
Website offering free plan which is best for newbie as I also used for my own social media scheduling.
Their support is awesome as whenever I found any issue I have contacted them and they respond to me within a half-day and definitely solve my problem.
Friendly interfere.
Easy to use.
You can connect your different social media accounts like Instagram, Facebook, Twitter, google my business, what's up, telegram, slack, wordpress. All these are free. 
Cons:
What didn't like about this website?
Bulk uploading.
Yes, there is no option of bulk uploading so we need to upload anything one by one for different social media posts. If you want to add many images or videos in one social media post you can add them easily but bulk uploading is not available.
Either you can buy postoplan or not?
As you know that this is a social media automation tool that is offering a free and paid plan. We know that in the paid plan every tool is providing awesome features.
But
Bulk uploading is one of the biggest features which is missing in it.
It is so irritating for me if you think that you can upload and schedule your weekly post one by one then I will definitely recommend you to upgrade your free plan to a paid plan.
But
As we know that in the premium plan of every tool is providing more value and awesome features.
Postoplan app is also providing good features but bulk uploading is missing which is the most important and common feature and in my words, I consider its key feature.
How to get a poster plan app for a lifetime just by paying a one-time fee?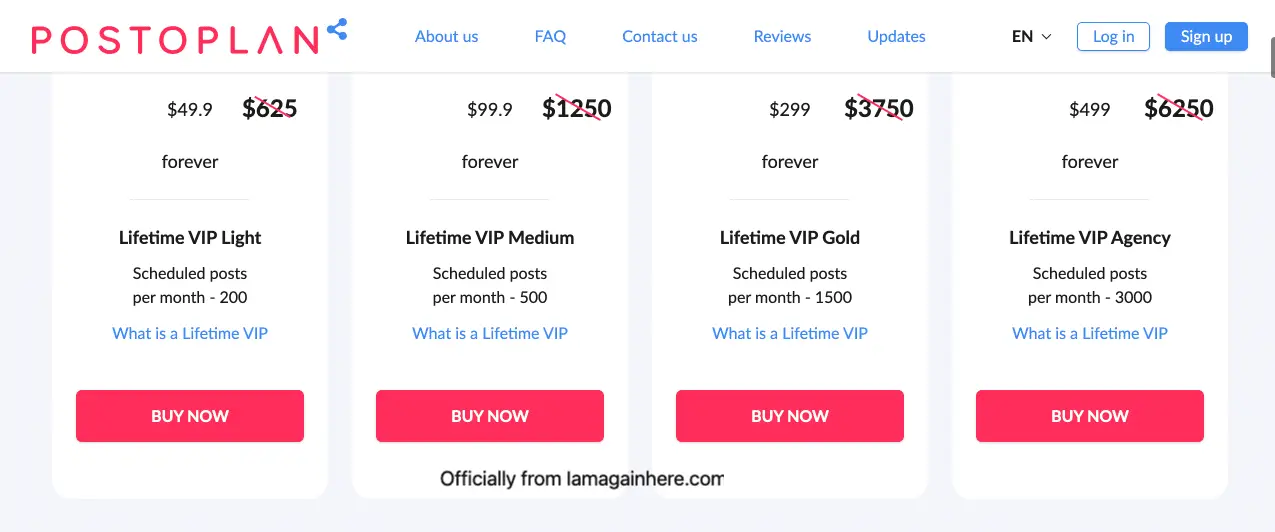 The very good news is that
They are also offering their lifetime deal but I will not recommend you. as I told you due to bulk uploading problems and otherwise this is awesome.
And if you want to buy this
First, you need to create an account on this website by Clicking here, And then you will need to ask them that I want to upgrade to my plan to lifetime.
So,
They will send you the link and after that, your account will be upgraded to a lifetime and you will never pay again for it.
But my suggestion is to buy Publer Instead of buying this because this is better than this.
If you are a newbie then the free plan is awesome for you. and if you don't want to upgrade their paid plan and want to know which tool is best.
If you have some money you can Buy this tool which I personally using and by using this tool you can upload 500 posts in just one click and after uploading you can schedule them easily.
Watch the video for a quick review of interference.
I am also using this.
Normally they're charging a monthly fee but currently, they are offering a lifetime deal and you can go for it.
It means that you pay once and Never again in your life.
And if you want to review this tool you can read a review of This article here.