Publer review : Features, price, pros and cons : 2021 Latest
So you want to buy a publer app but before buying you want to read a proper and genuine Publer review App.
Well.
I have purchased the Publer Lifetime deal (this deal may be available or may be sold out but don't lose hope you can check another tool to buy it from the Official site) And I am a user of publer. SO, I will give you a genuine and better review of the publer app.
Publer review!
In this article I am going to covering different aspects of the publer app. pros and cons which feature I like which feature I don't like where you can buy and most importantly is it worth it or not?
All your doubts will be cleared after reading this article because all my reviews are based on my user experience as I told you I am a paid member of the Publer app So you will get to know well about it.
There are many different Social media Automation website and apps available and publer is one of them and you want to know that how it"s work and either you should buy it or not in 2021?
I am going to explain everything with a proper guide like with pictures so your all doubts will be clear and also I will put a video in this article to make your reading experience better.
So let's start this article By Features!
1. Social Media Accounts.
As we know that in every social media automation tool it is so important to know that how many social media can we can connect with it?
It is so important to question and rises in every mind before buying every tool. In the case of publer, you can connect to the following social media websites.
Facebook.
Linked in,
Twitter,
Instagram,
You tube
Pinterest,
Google my business.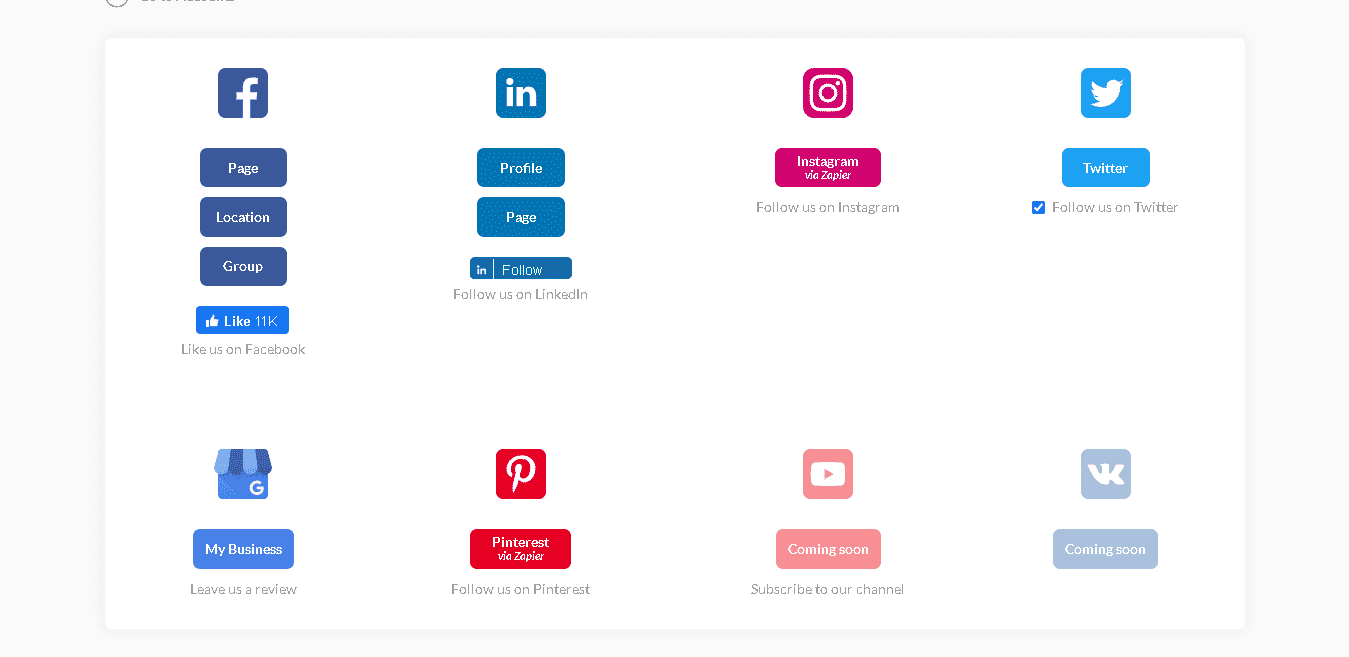 3. Scheduling Time Frame.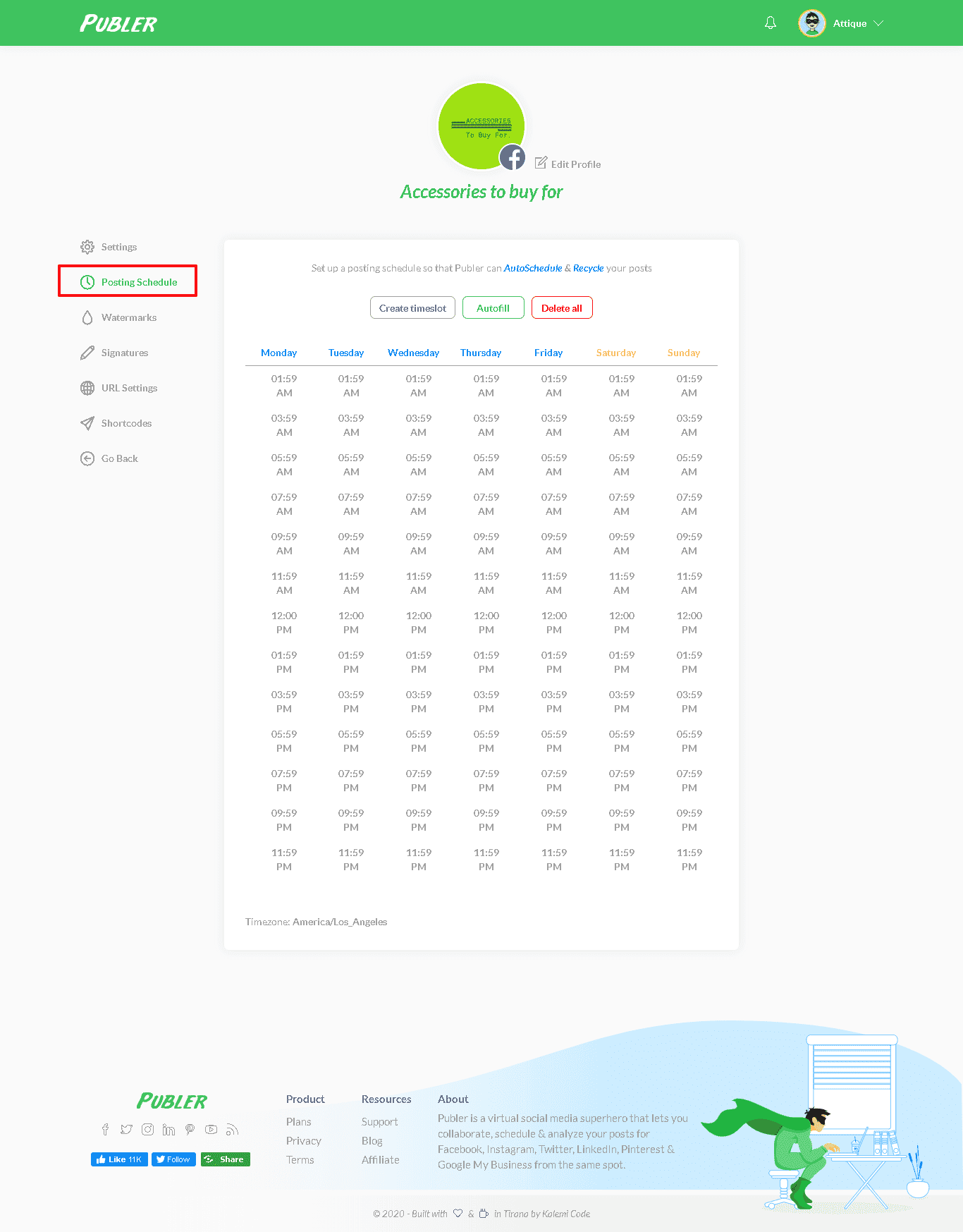 You can make a custom schedule and you are also able to make an auto-schedule for your days, weeks, and months. So it is also a good feature and you can edit any of your schedule time frames after you make it live.
4. Watermark
In the publer app, we can add watermark in all our images just in one click which is another awesome feature. We also upload and save different watermarks that we can use in the future.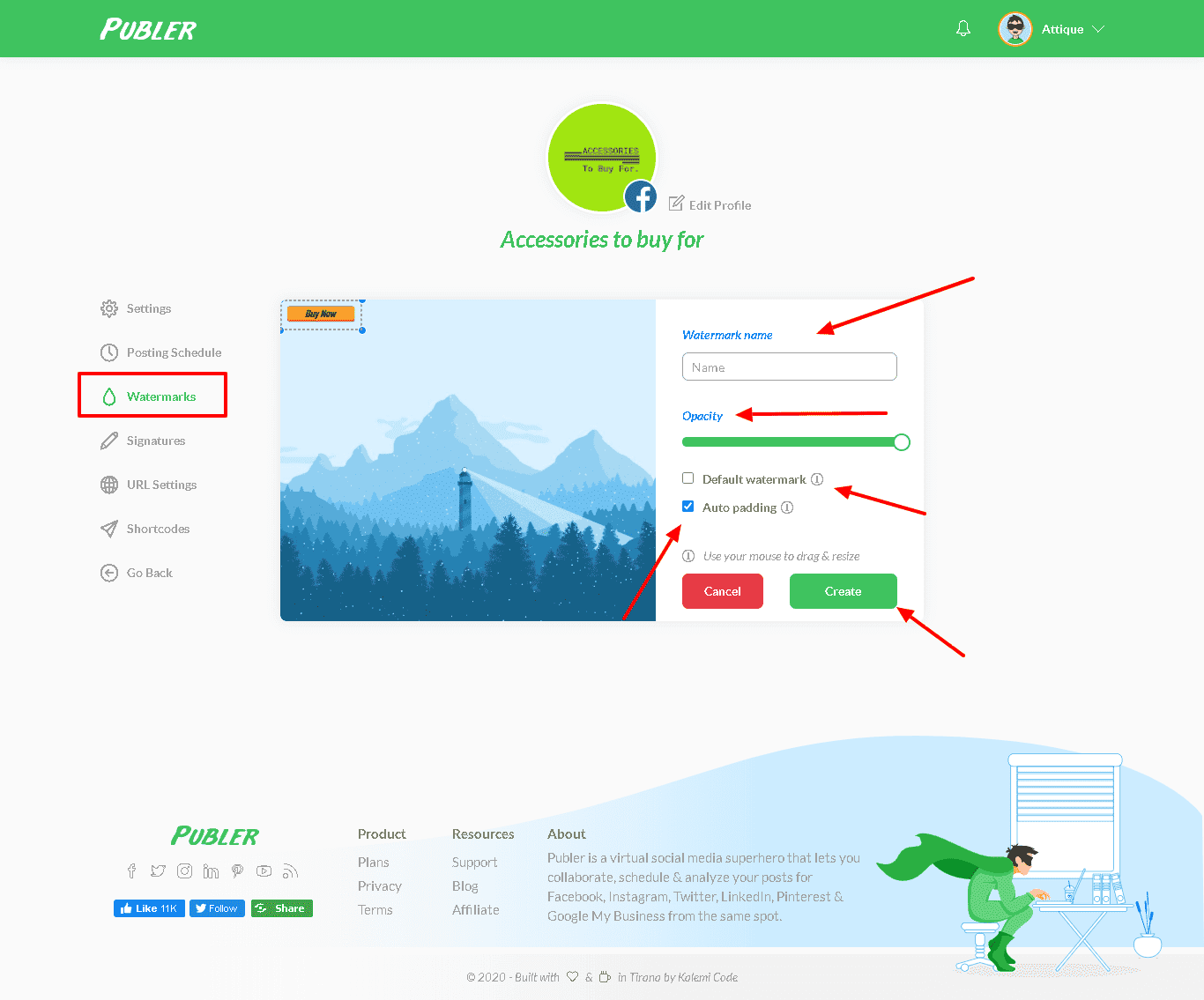 And we are also to
Resize and position watermark according to our need in a picture.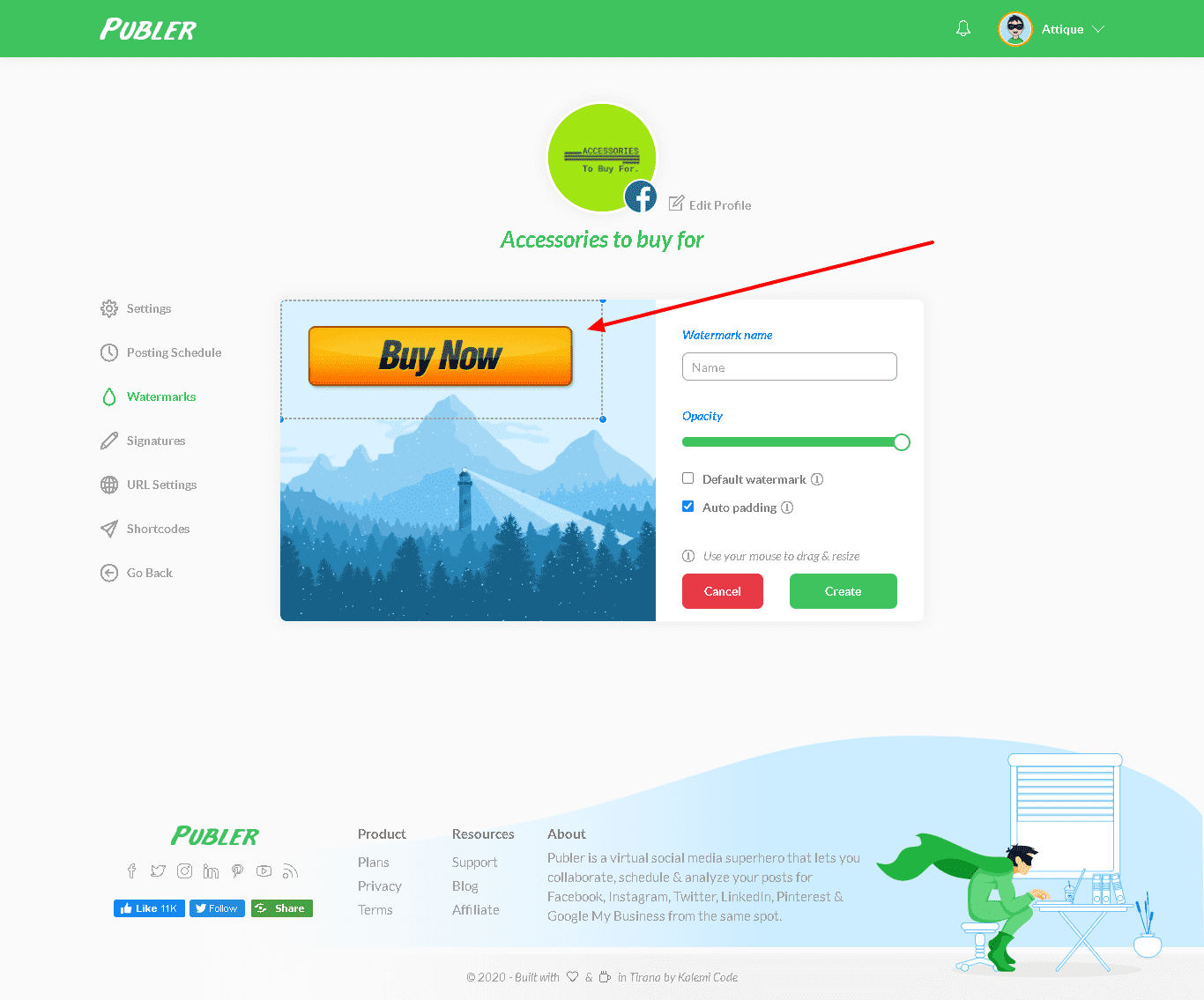 Another example.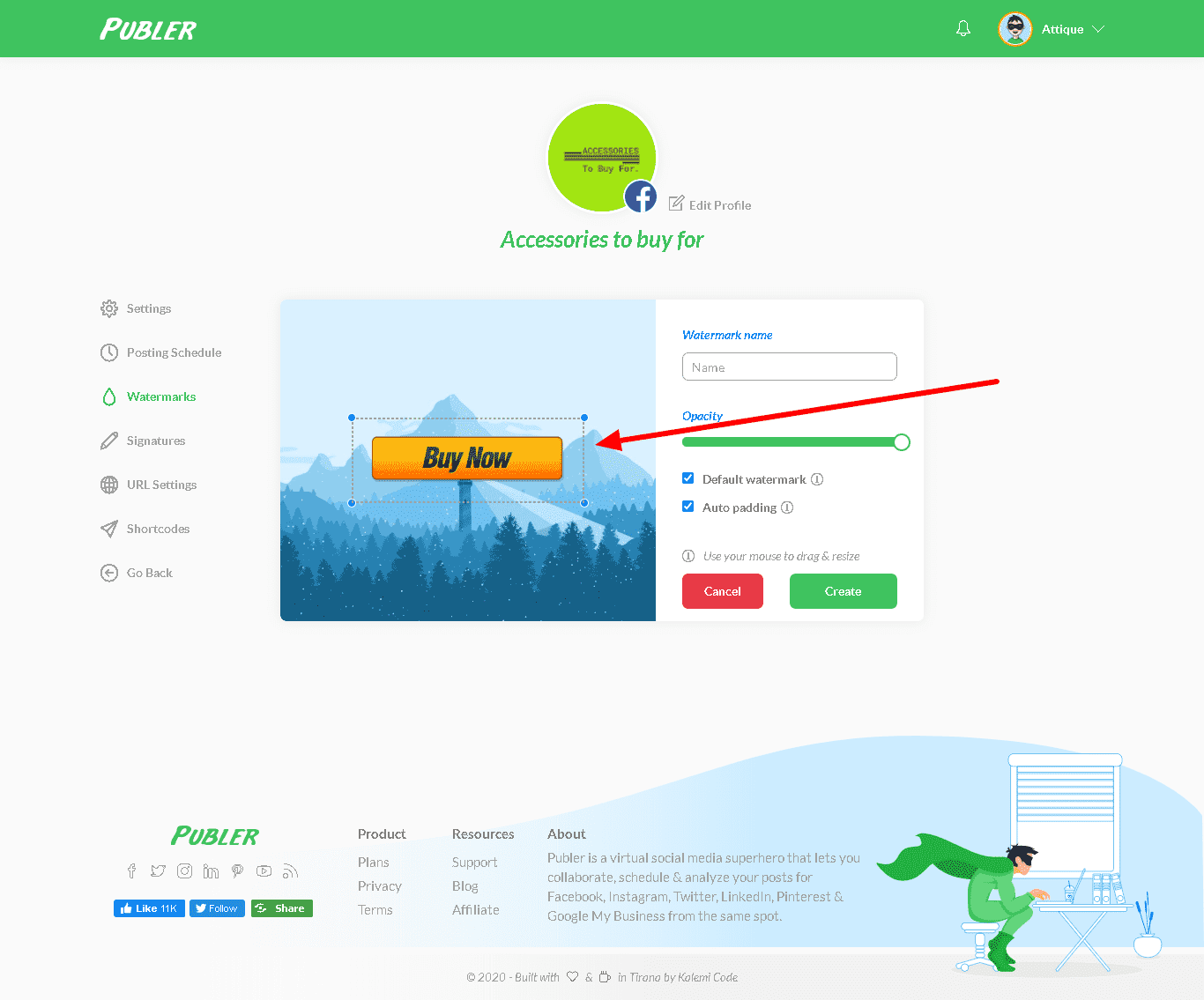 You can add different watermarks for different accounts like for Facebook you can add different for Instagram, different for Twitter you can add different watermarks.
5. Signature.
Signature horror and other best features which I like in the popular app. the main feature of signature is using this you can add your signature at the end of any text like ok we send in email and it will automatically appear at the end of every scheduling post text.
6. Shortening Url.
Publer also supports different shortening URL website.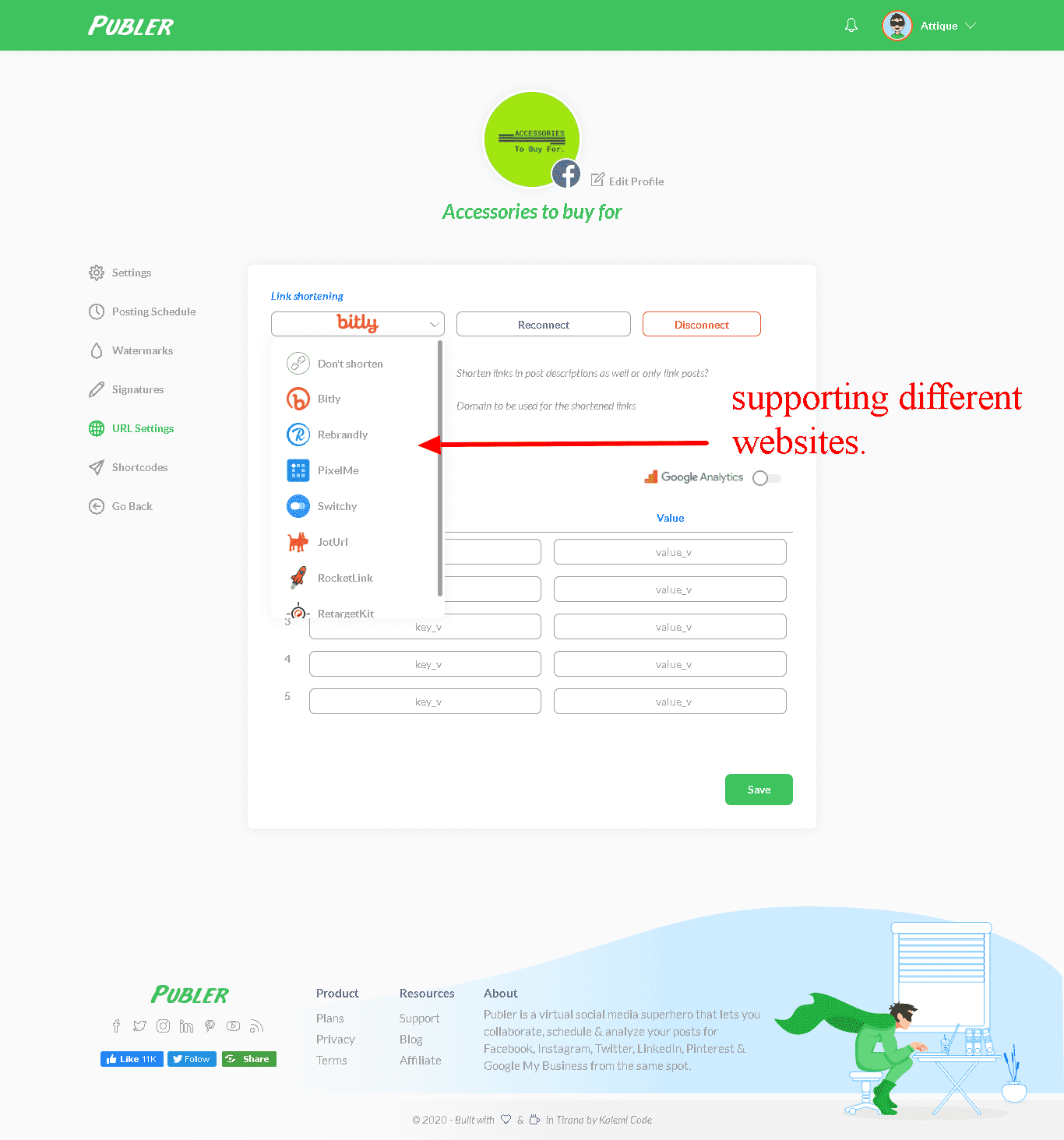 Which you need to connect once with publer and after that all social media scheduling post will be going with shorten URL and,
You don't need to shorten them one by one so it is another + point in publer.
7. Shortcodes.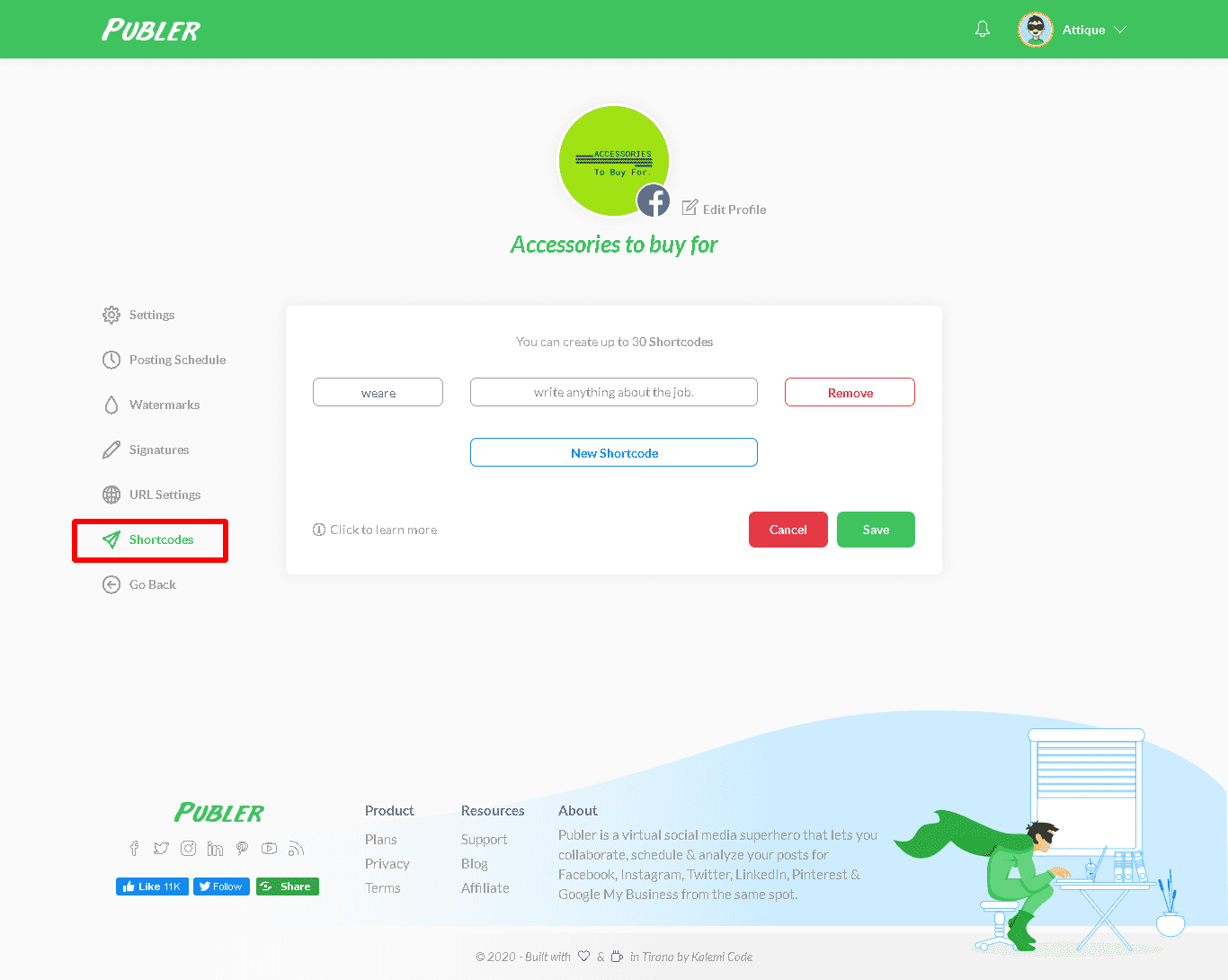 8. support system in publer.
Now let's talk about their support system.
As you know that support is the main thing on every platform either you are buying a hosting or social media tool or anything else in online or offline scenario support is a must and need any time, every time, or anywhere.
In the case of their support, I am really impressed and very happy with them because they are providing a live chat support icon on their website.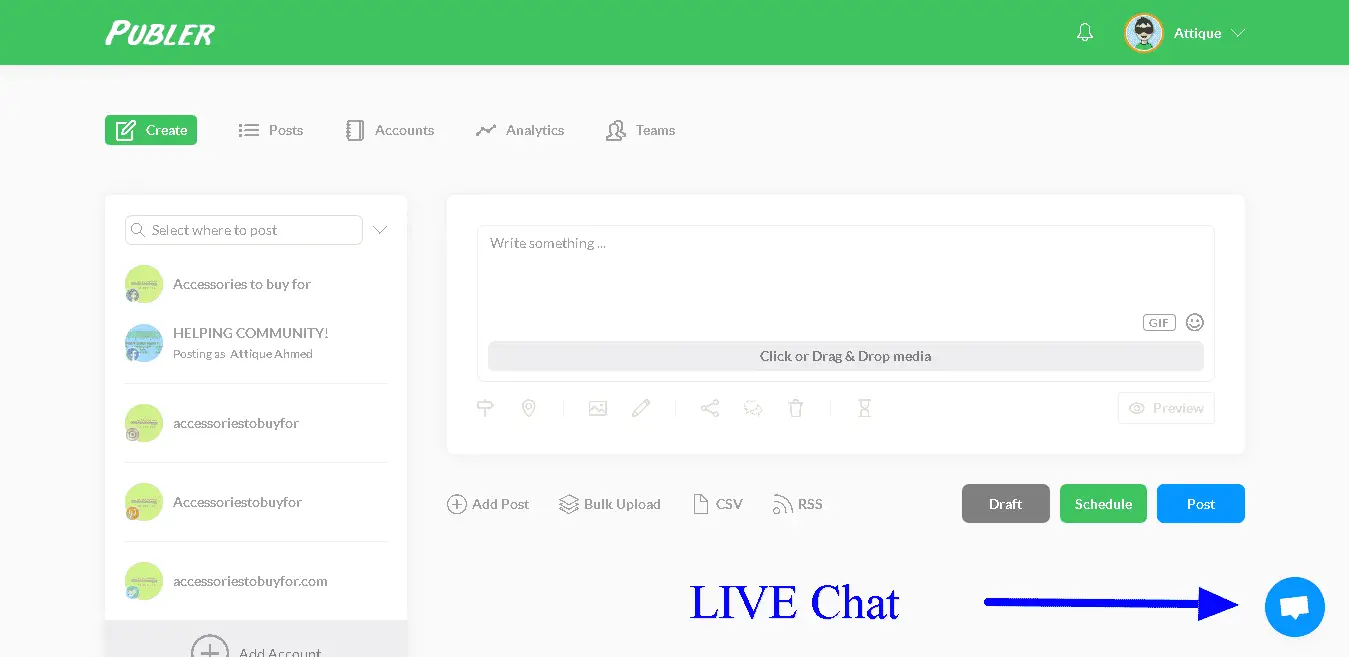 So you can just click on it and definitely, they will reply to you within minutes.
I discuss much time with them.
But sometimes they are offline and you can email them and they will reply to you in your email which is also another plus point.
And the other plus point about their support is your all previous message content will be saved in your chat.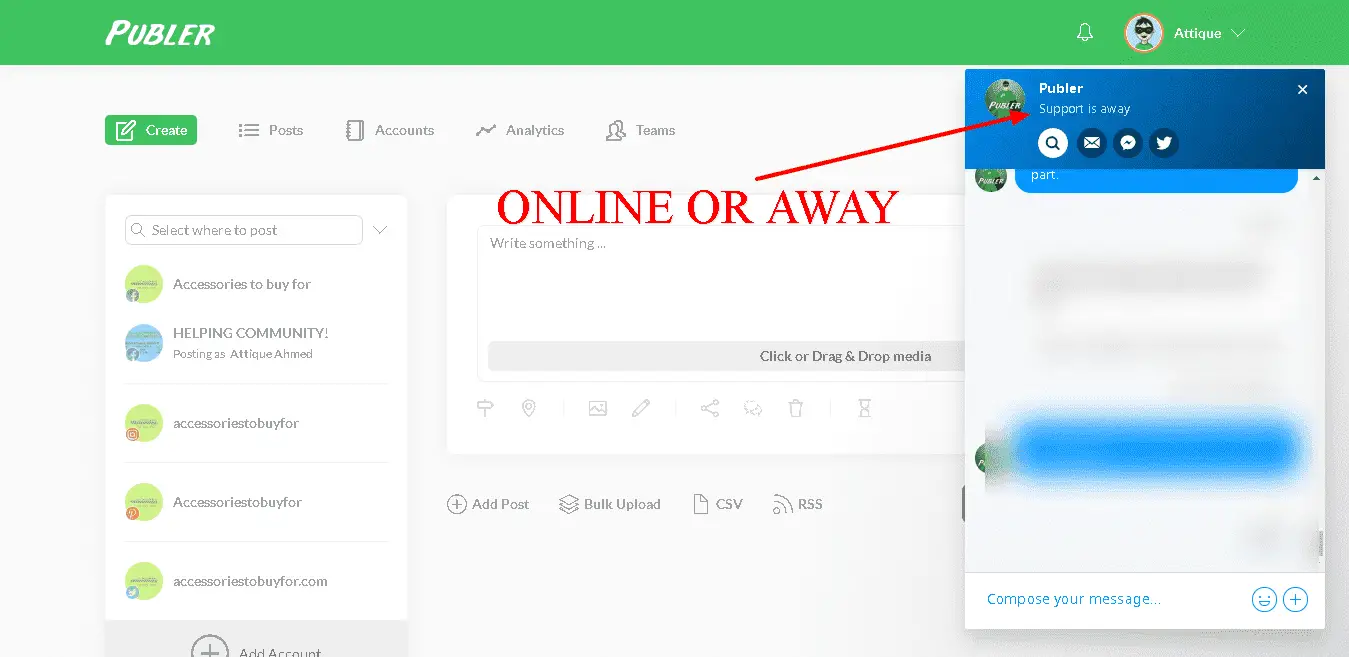 So whenever you want anything of your previous support you can have any time.
Now
I think these are enough points for publer and if you want to know anything more you can comment below and you can contact them they will reply you and satisfy you and I am also very satisfied with publer.
Now let's talk about some pros and cons just in a quick way. so we have some reminders on their features.
9. Team Members!
Again it depends upon your buying plan which plans you should choose for you.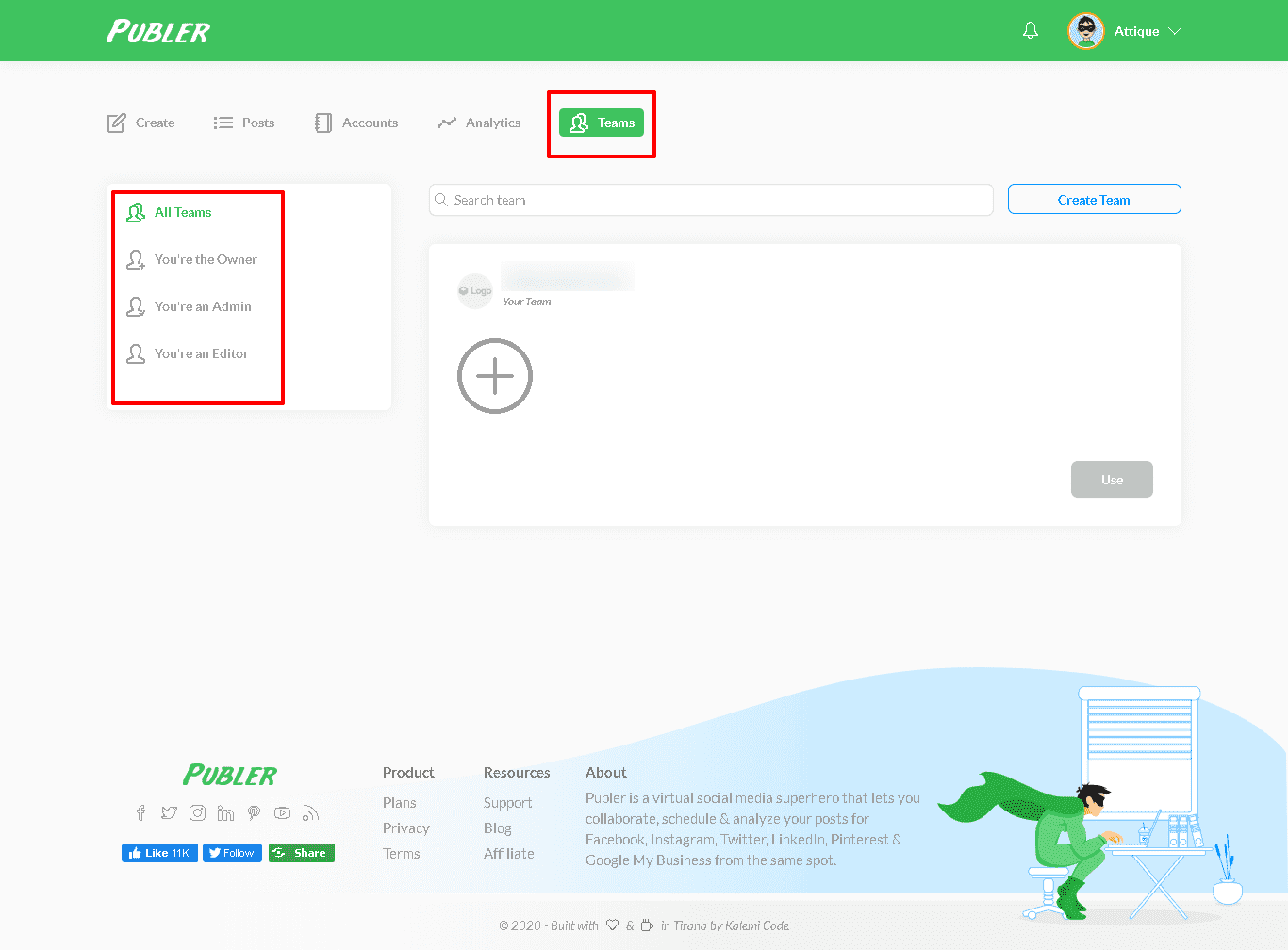 10. Analytics:
Here you can see the analytics and performance of your scheduled campaign on daily basis.
Likes, engagement, and more.

Publer Pros and Cons of Publer:
Pros
Bulk uploading.

500 posts in one click.

Watermark support.

Everything is editable as once you have a schedule or published any campaign you can edit any time later there is no restriction.

Shortcodes support.

Live chat support.

Almost all major social media platform supports.

Also, have a chrome extension!
Cons:
Currently, I didn't see any type of con in it but the one thing which I didn't like is that when we schedule our post for Pinterest we are unable to add our picture title. We are just able to add a picture description and image link.
When I talk to their support about it they said that it is not our fault this is the setting of Pinterest API.
So we cannot do anything on it as it is directly linked with Pinterest API.
So now you can easily think about it but maybe it will solve in the future.
My final words on the publer review.
I hope you have read the complete review of the publer app and if you want to know about my opinion I will highly recommend you to go and buy this app because this is worth of money and currently their lifetime deal is also awesome.
So you can go for it and Buy it now.
If you have any questions then comment below I will reply to you.
If you are looking for a Free socials media website, You can check it Postoplan app.
[wpsm_ac id=2170]