FlexClip Review: Features, Pros, Cons, Price and Discount.
If you are a vlogger, you tuber, or any other present and looking for a video-creating tool that helps you to create more and more videos in less time with less effort with less price with rich features, then FlexClip review Is here for you.
In today's scenario as we know that videos are the best source to convenience your message to your audience. That's why every popular agency, company, using videos to convince their message to their audience.
If you are one of them and looking for a tool that makes your video content creation workflow easier and faster then you are at the right place.
Because
I am using flexclip and I am going to giving you my honest review about flexclip along with the pros, cons, features, and I also have a discount for you.
So just stick with this article and I am going to giving you a Review about flexClip.
Now let's start the Flex clip review.
What is flexClip?
Flexclip is an online video editor and video maker tool that allows you to create eye-catching, attention-grabbing,  videos within few clicks. It comes with hundreds of pre-made templates which you just need to choose and customize according to your requirements and you are ready to go.
It allows you to create professional videos in different categories like you can create real estate videos, sports videos, nature videos, lifestyle videos, Youtube videos, reviews, animal and pet videos, slideshows, art, and culture videos. And lots more just within one platform with some simple clicks.
FlexClip features:
It comes with almost all the necessary features which a video content creator needed almost everything. Let's take a look one by one at what you are getting inside.
1۔ Media library.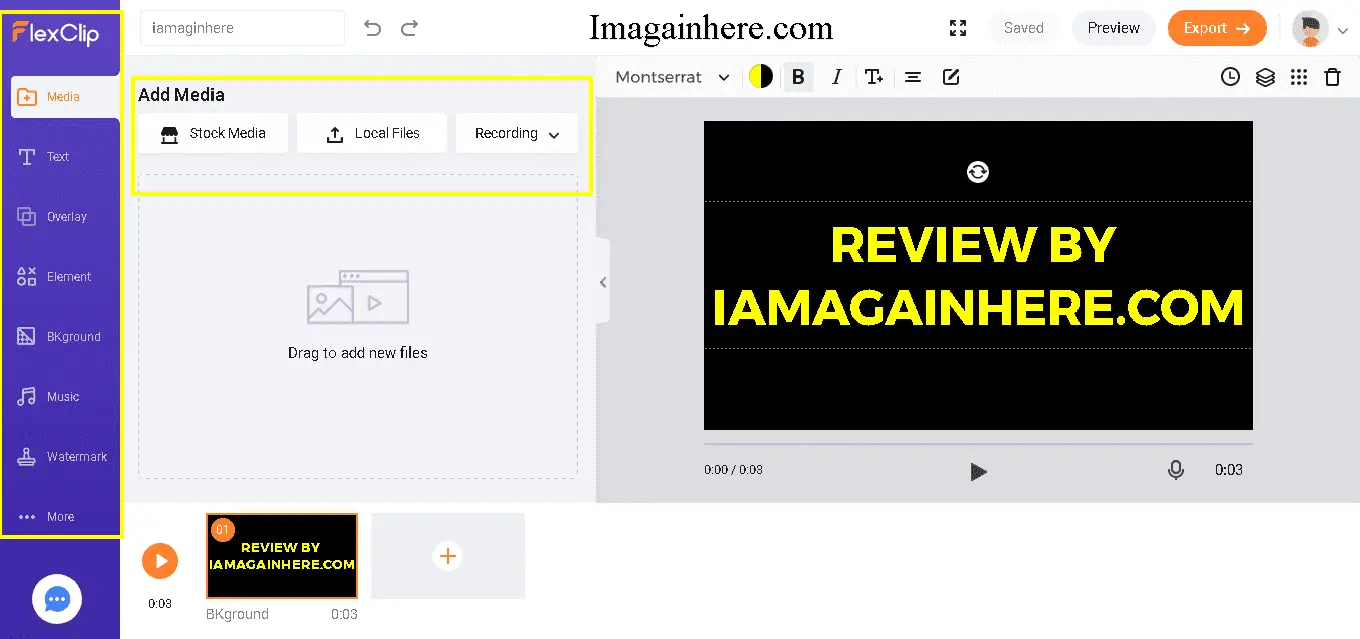 The first feature which i like the most is that it will allow you to add your own media which you can upload from your own computer/device.
The second option is to add ready-to-use stock images or videos.
And the third way is that it will allow you to record and add your screen/webcam recording directly into its timeline.
2۔ Text.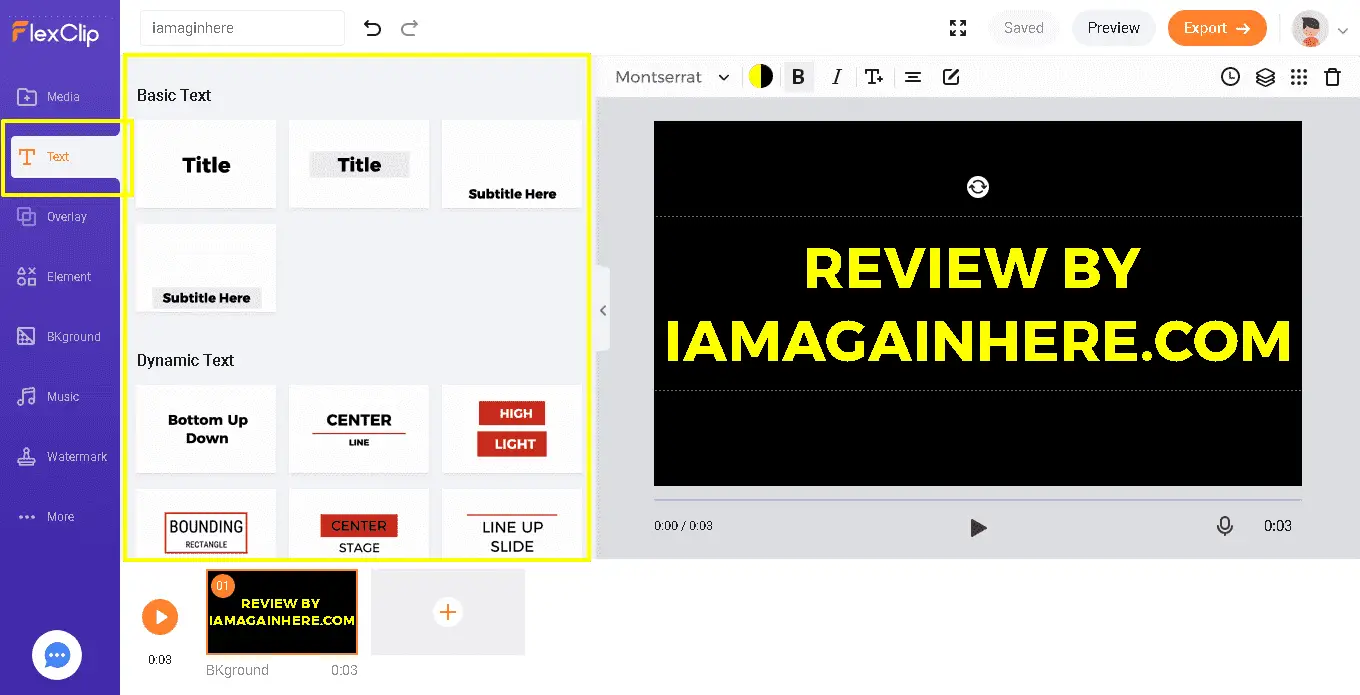 FlexClip Also allows you to add text to your videos/images in different styles.
In-text it will allow you to change color, position, size, fonts, a timeline of your text.
It also has some premade dynamic text template which can be used directly to make your videos more attractive and eye-catching.
But keep in mind it didn't allow you to change text animation you just choose pre-built animation which comes with it.
3. Overlay.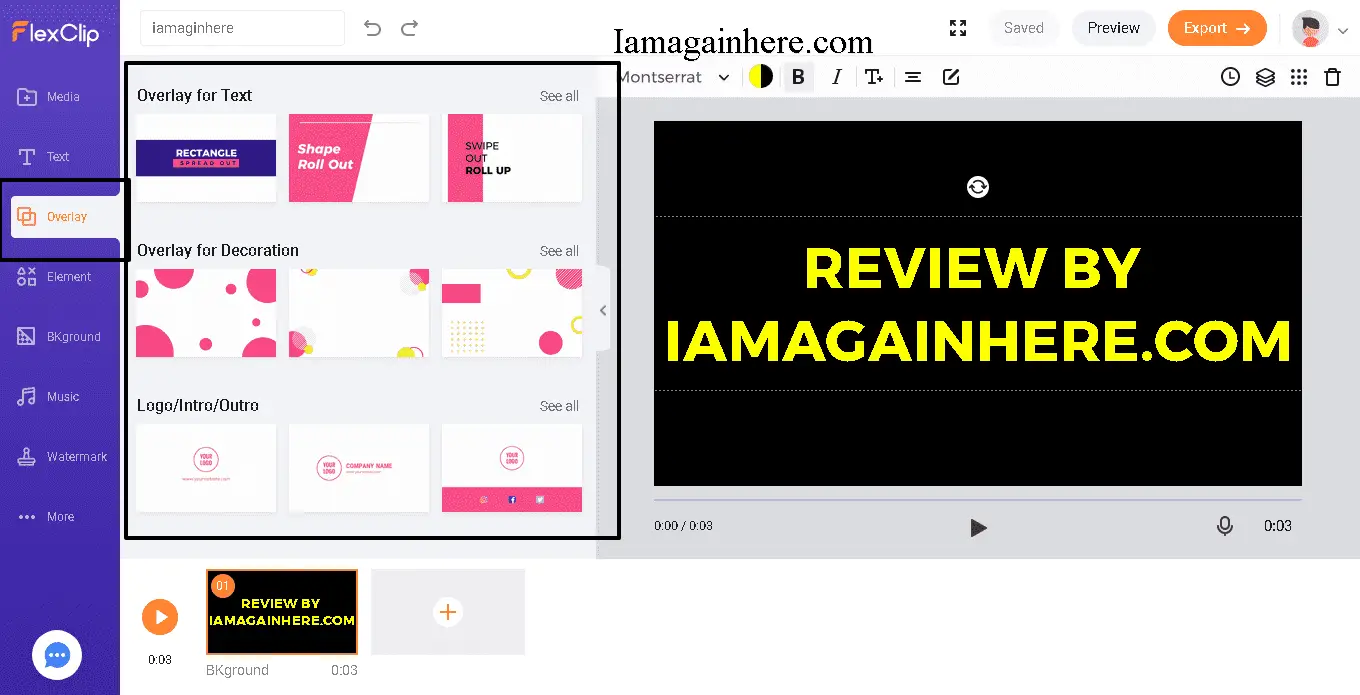 The overlay feature in the
Flex clip
 Is also good which i like the most. It has some ready-to-use overlays for your videos along with intros/outros.  It makes your videos more attractive. The overlay in flexclip is mainly categorized into three main categories.
1.overlay for text.
2. overlay for decoration.
3. intro/outro overlay.
Overlays are not available in large quantities but enough for the newbie.
4. Elements.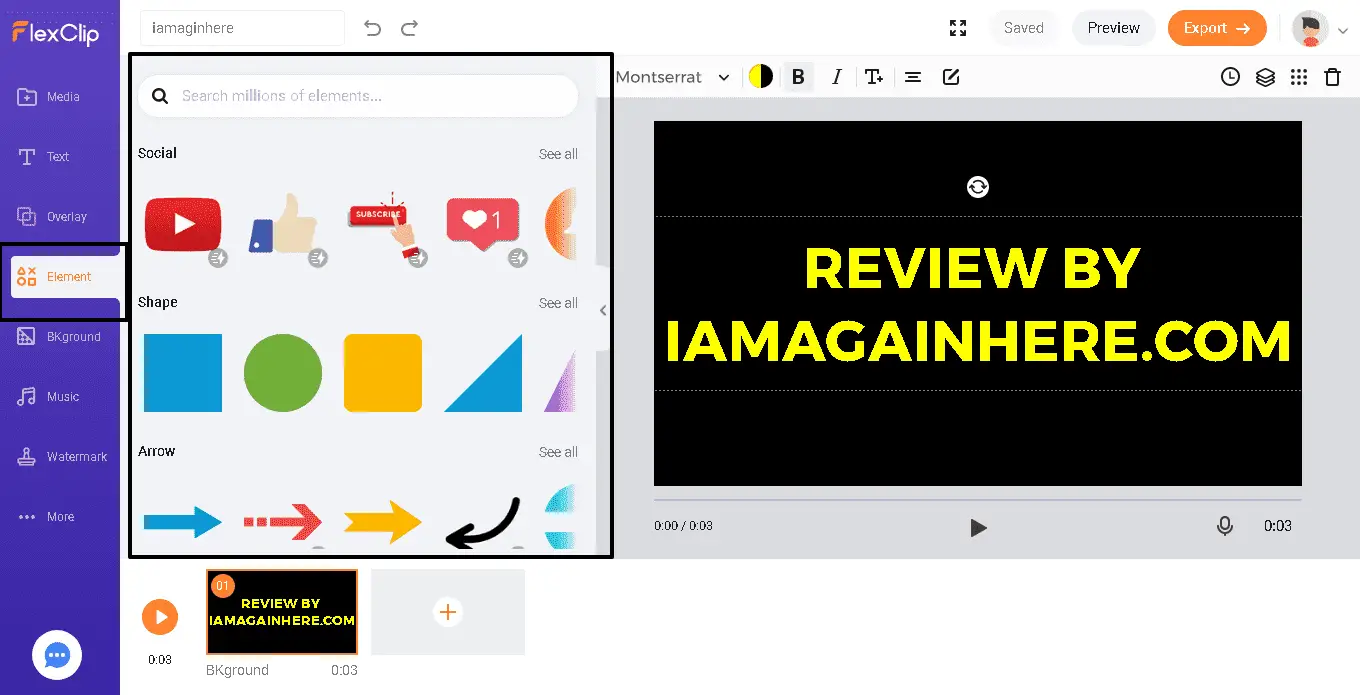 In elements, you can find millions of different elements related to different categories.
The elements section is full of rich elements because it will also allow you to add-element and you can change the color of the element.
You can also animate your element which is the best feature in it.
Not all elements but which are needed to be animate you can animate them. The element section will definitely surprise you.
5. Background.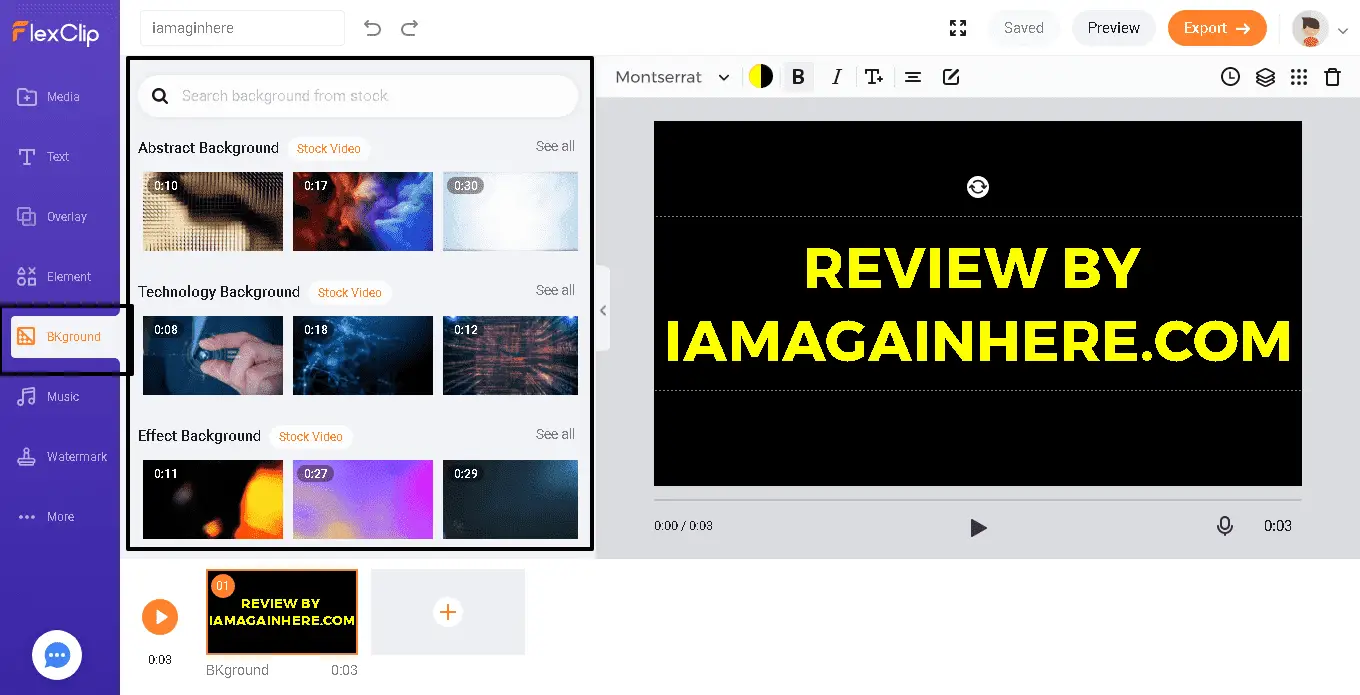 The background section is also crazy because it also comes with full of rich background.
It comes with different types of background like a cartoon, nature, color, simple, flowers, geometry, polygon, texture, gold, and more types of background which is so amazing.
Also, you will find use collection of videos in each one.
6. Music.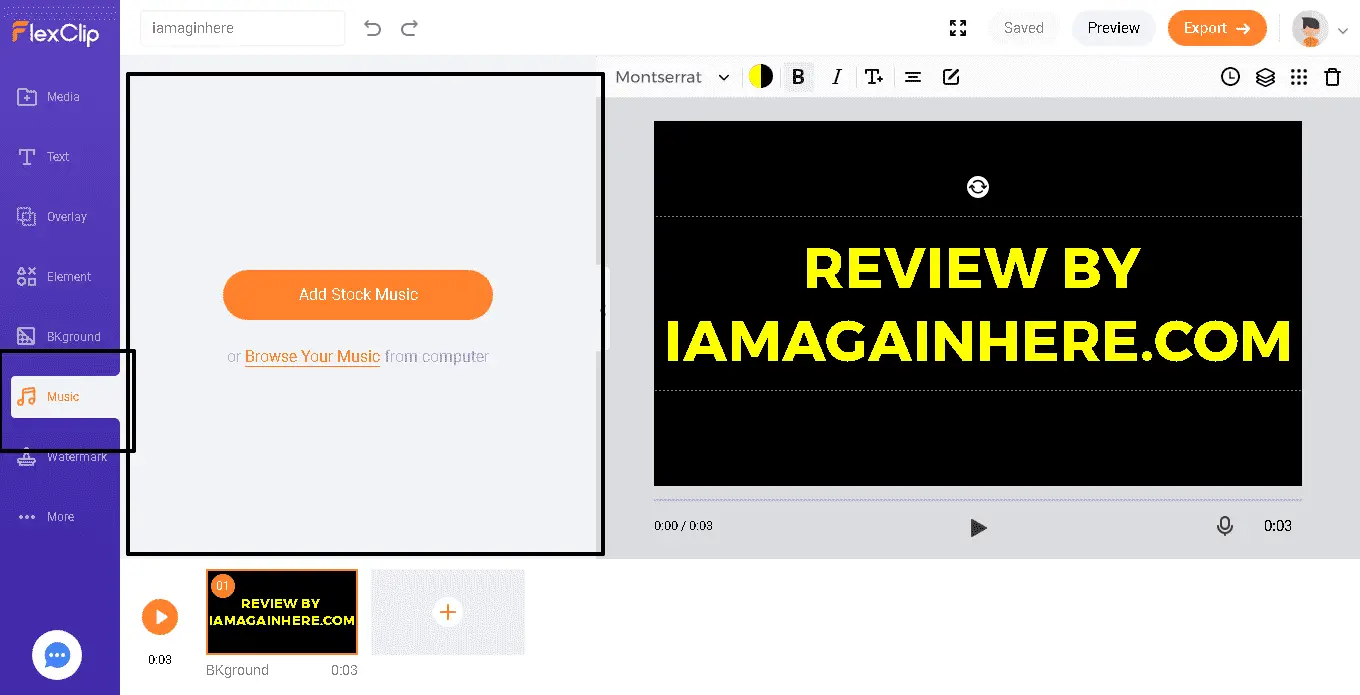 In the audio section, you will find tons of audio that you can use in the background of your videos and these are premium audio that you are getting for free with it.
It will also allow you to add your own audio from your computer.
7. Watermark.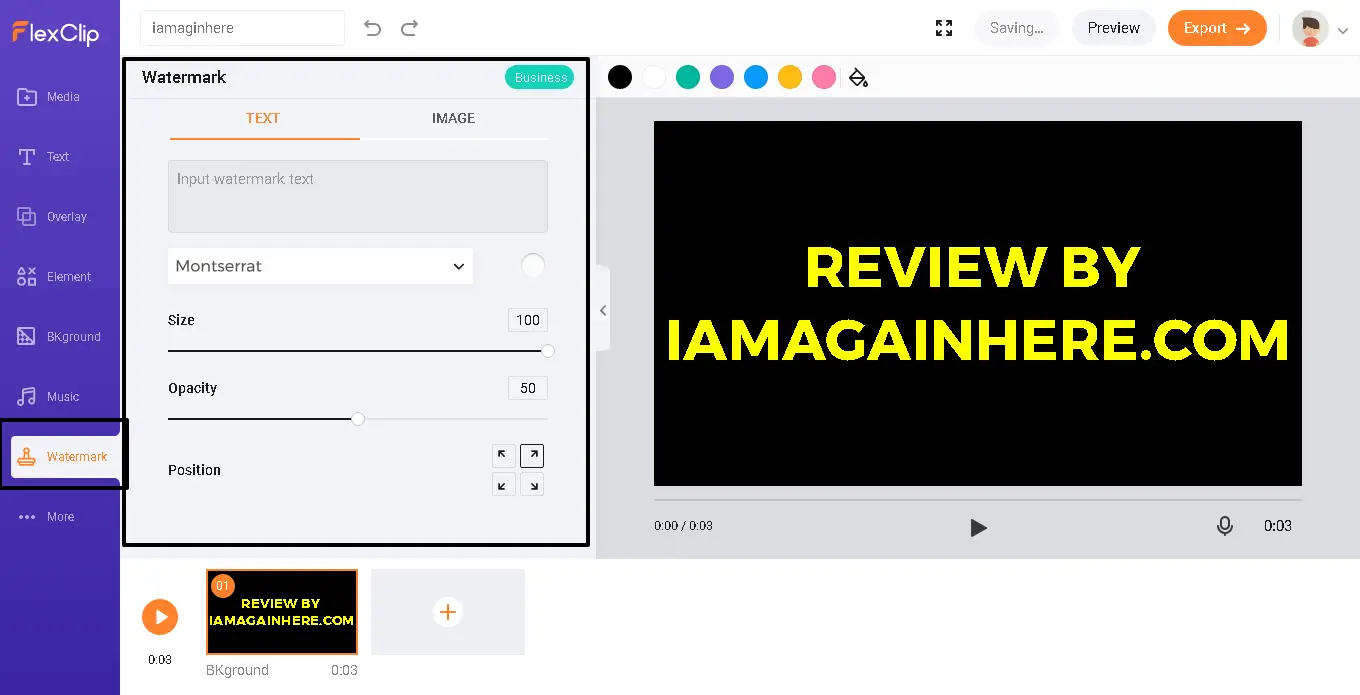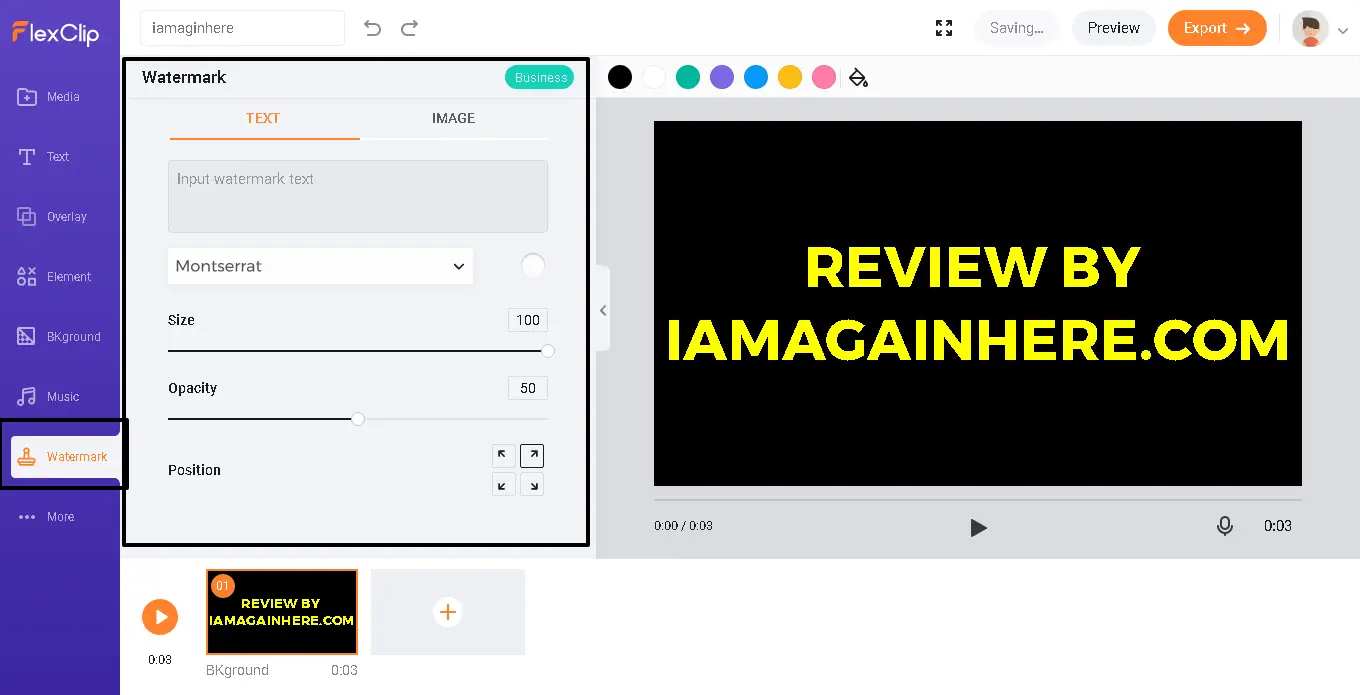 You can also add a watermark to your videos. You can add text or images in jpg or png format. In the in-text watermark, you can change the size, color, position, of your text.
8.Ratio.
You can also change the ratio of your video into different sizes in which included desktop, mobile, and the following sizes.
16:9
1:1
9:16
4:5
21:9
FlexClip editor features:
There are some more features included in its video editor in which included a video trimmer.
In its own editor, you can add your own original file.
Record your own voice in the background which you can put in your video. You can split your video. All these features are included in both story mode and in timeline mode.
Flexclip promo code: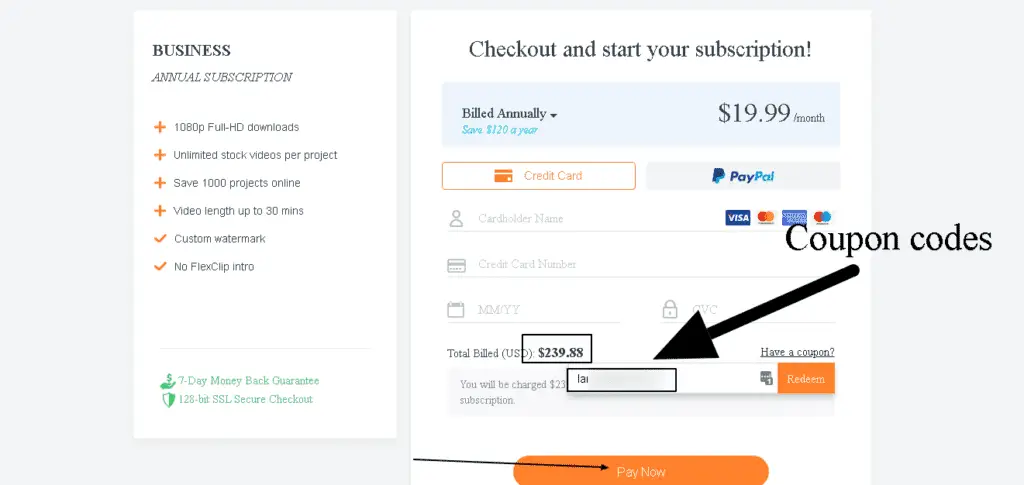 I also have a special coupon code for you which you can use and enjoy 20% off on all of your entire orders. Just use Iamagainhere20 and enjoy 20% off on any order.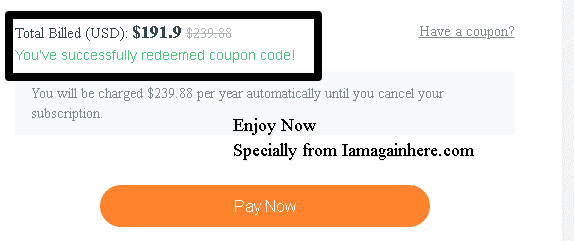 Flexclip pros and cons:
[i2pc pros_icon="icon icon-check-4″ cons_icon="icon icon-cancle" show_title="true" title="Pros & Cons" show_button="false" pros_title="Pros" cons_title="Cons" ][i2pros]Ready to use templates.
Customizable templates.
Tons of stock videos/audios
2 different types of video editor modes.
Different ratio.
Trim/split/voice recorder
Add your own media(images/videos/audios)
Export resolutions. (480/720/1080)
Watermark
Tons of elements (you can animate some of them)
Export in mp4/gif.
Screen recording available (directly add in your timeline)
Directly share on dropbox/youtube.
Live chat support (specific time).[/i2pros][i2cons]Artificial voice not available.
Uploaded content in the project will just useable with that project.
Max screen recording is 10 mint. [/i2cons][/i2pc]
Conclusion about flexClip review.
My final remark about Flexclip review Is that if you are a person who is looking for a video creation tool that can create tons of videos in less time with great quality then this is definitely for you. because it comes with almost all the necessary features and options that a video content creator needed.
Also, I am providing you 20% of which you can use on any plan.
So all in all Flex clip Is one of the best video creator tools.