Many people from us want to automate their social media posts for free but they don't know how they can do it easily.
But,
Don't worry because of iamagainhere.com (my website name)
And in this article, I am going to show you the best tool by which you can not say again or search on google that How To Schedule Social Media Posts Free and I will also going to give you a free bonus tips by which you can save your lots of money.
And it's not enough I will also tell you which tool I am using personally and when I have some money which tool I bought with a one-time fee. (Yes just one time and i never need to pay again for that)
So stick with this article at the end and definitely it will help you a lot in saving your time and also in saving your money. 
How To Schedule Social Media Posts Free!
In today's scenario, there are many paid and free tools by which you can schedule your social media for free. 
But in the Free scenario, there are some limitations but the tool I am going to show you today is one of the best. By using this tool I have posted more than 190 posts on my Instagram and Facebook page. 
So I have already used this tool personally so I guide you best about It.
And I will highly recommend you to use this tool if you are a newbie. 
But now I have switched to another tool which is paid but with one time. want to know which one and how?  I will tell you later so stick with this article.
Before starting this article I want to clear some of your questions about social media scheduling.
Why Schedule Social Media Posts?
Actually Many peoples, Agencies, and brands are doing social media scheduling. Scheduling on social media varies from purpose to purpose like some people want to grow their social presence and also brand awareness.
social media scheduling is so important and good for digital marketers.
Some other Purposes of social media scheduling is to save time.  Today in this present world,  for a single person managing different social media account is so hard for that case they hire someone, or
when they don't have too much money to hire someone so they manage their social media by themselves. But posting on regular basis on different platforms is so hard.
In that case, people use social media scheduling to save their time.
Now let's talk about that 
Social Media Posts Free!
There are many different ways by which we can schedule our social media posts for free. There are many mobile apps and websites available to schedule social media.
But by using a website it is so easy to schedule.
So let's talk about which website is best for you to automate your social media.
I personally like this website.
WATCH VIDEO
OR SKIP IT TO RAED ARTICLE.
Now I will tell you,
why I like this website and which feature I don't like on this website. So, before you using this website all your doubts will be clear.
Let's talk about it.
Pros:
Website offering a free plan which is best for newbie as I also used for my own social media scheduling.

Their support is awesome as whenever I found any issue I have contacted them and they Respond to me within a half-day and definitely solve my problem.

Friendly interface.

Easy to use.

You can connect your different social media accounts like Instagram, Facebook, Twitter, Pinterest is under testing (but maybe when you read this article Pinterest has been successfully connected so check them yourself) Google my business. All these are free.

 
Cons:
What didn't like about this website?

Bulk uploading.

Yes, there is no option of bulk uploading so we need to upload anything one by one for different social media posts if you want to add many images or videos in one social media post you can add them easily but bulk uploading is not available.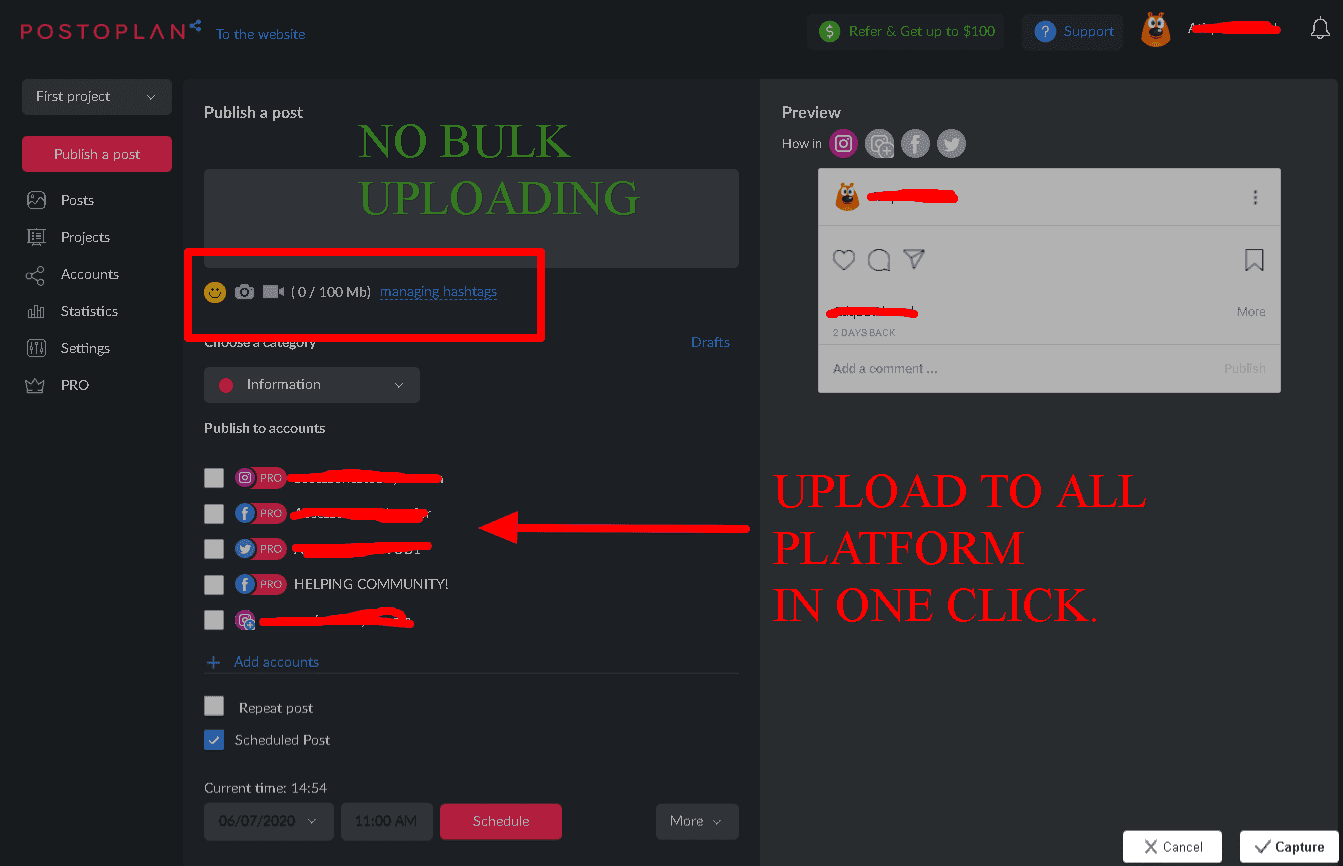 Posting on many social media account in one click is available so keep in mind bulk uploading is different and posting on many social media platform in one click is different as you can see in the picture.

The next cons of this website are that they are not offering video uploading in the free plan so, if you want to upload videos on your social media then you must need to upgrade but don't worry,

because I will give you a bonus tip by which you can save your money.

7 days scheduling means if you are using their free plan you cannot schedule more than 7 days for free but I think if you are a newbie 7 days are enough for a new person.
Bonus Tips:
Now let's talk about bonus tips.
Friends read this small article so carefully because it will just not help you in social media scheduling buying tool but it will also help you in every field of your life because it is a pure bonus tip for you.
So must read this carefully.
Now, what is the bonus tip?
As I told you that this tool is normally free but it also comes with a Monthly paid plan۔ as you can see!
but I am going to provide you the link by which you can get this tool just by paying a one-time fee. Yes friend this is a bonus tip yet no one can know about it.
But I am telling you because you are my website (iamagainhere.com), reader.  You can get the stool just by paying a one-time fee for a lifetime and you don't need to pay again.
but stop doesn't buy this tool.
But why and which tool you should buy instead of this?
Why you don't need to buy this tool for a lifetime?
Friend as a told you this tool is obviously awesome for newbies not for advanced users.  if you have some money, I will definitely suggest you go for other social media tools like this publer.( Read the review here).
As I promised you that I will definitely guide you about when I am using this free tool and when I have some money which tool I started using instead of this?
WATCH VIDEO
OR READ ARTICLE.
Friend the tool which I am using now is called PUBLER.
I have started using it but why?
First of all friends currently you can get this tool just by paying a one-time fee like $39.  Yes, friends just 39 bucks which are not anything as this tool also charge monthly but currently they are offering a lifetime deal for a limited time.
so,
I will definitely ask you to buy this tool as soon as possible.
So I recommend you to use this tool just as a beginner and for free and when you have some money and you want to upgrade your social media automation tool then,
I will highly recommend you don't upgrade this tool postplan.app just upgrades to any other social media tool because bulk uploading is a big problem and may this problem will irritate you.
So use any other social media tool instead of this.
Final conclusion on scheduling on social media.
So my recommendation is that if you are a beginner and just starting and you don't have the money you will definitely go for this tool, POTOPLAN.APP.
but due to some limitation which I don't like I don't recommend you to upgrade this tool into a premium account, 
so,
If you want to upgrade go for any other social media tool you can go for PUBLER.
And if you don't feel hesitation in some cons of potopalnapp which I have already discussed as a right above,
So you can go for it.
I am a Word Press Designer/developer, Affiliate Marketer, Youtuber, Freelancer, and Blogger.
I Love to Write Articles, Making YouTube Videos, and Providing WordPress Services to Clients. You Can Connect with Me on My Social Media Channels or by Email: Admin@iamagainhere.com
This Is My Passion.